Nolan helmets new at Scooter Center
NOLAN HELMET
NEW!
New to Scooter Center: Nolan helmets
The roots of the Scooter Centers and those of scooters in general are located in Italy. With Vespa and Lambretta, the scooter with its Italian charm succeeded in conquering hearts all over the world. Which helmet could therefore go better with a scooter than one made in Italy?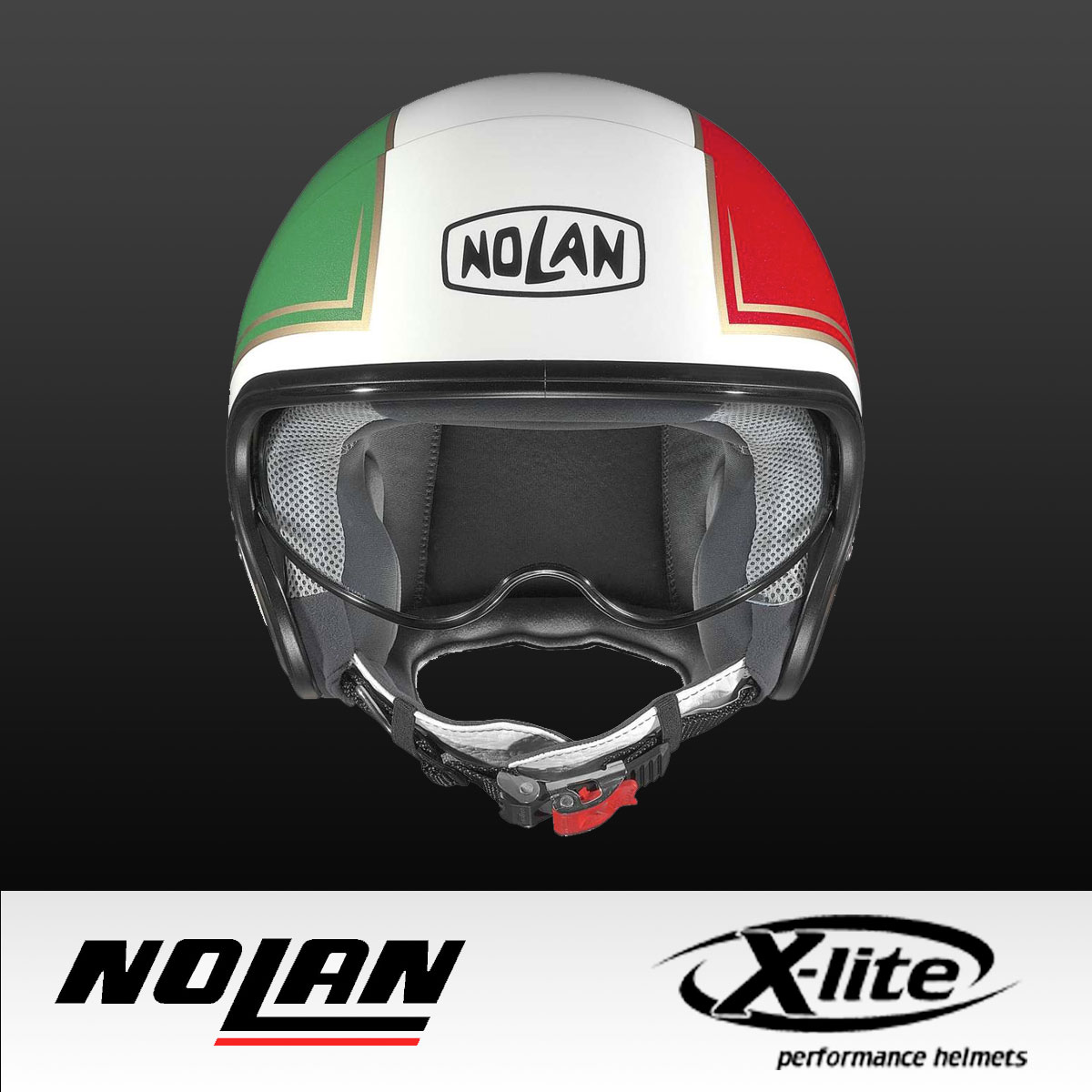 Nolan - Made in Italy
Nolan has been manufacturing its helmets in Bergamo, Italy, since 1972. That is private Nolan helmet Oliver Kluger, Managing Director of the Scooter Center GmbH. Oliver is particularly proud that that Scooter Center now official Nolan Shop at a hunt.
Scooter Center is an official Nolan dealer
It's not just about style, we're talking about your safety on the scooter!
Hence the Scooter Center -Team at the start of the partnership, first of all received a helmet training.
Nolan helmets score points for safety, style and quality
Nolan is one of the most successful and globally recognized brands for scooter and motorcycle helmets. The company from Bergamo, Italy, stands for the upper class in terms of safety and quality. The engineers at Nolan develop the full range of helmets with the support of the most modern robots
Have you noticed that the design and the colors of the open face helmets are always based on the colors of the Vespas? Nolan jet helmet
Safety, highest performance and best wearing comfort
The trade press confirms this again and again in tests. The Nolan helmets are great! Because by choosing the most innovative materials paired with constant further development, we guarantee Safety, highest performance and best wearing comfort. Fit, aerodynamics and design make the helmet models from Nolan professional protection. Regardless of whether you are on the race track with your Nolan helmet, on your daily commute, on weekend trips, on the motorway, country road, or in the city.
Italian design
Nolane's scooter and motorcycle helmets not only play in the top league when it comes to workmanship, the style with the design of Italian elegance is also unmistakable. Whether integral star model N87, flip-up helmet N104 or modular helmet N44 - the motorcycle helmets of the Nolangroup, founded by Lander Nocchi in 1972, have been valued by male and female bikers for decades due to their high level of safety and their individual design. With its versatile helmet models, the long-established company offers an excellent selection in all categories.
Made in Italy / Europe
Did you know that Nolan is actually one of the few helmet manufacturers left in Italy that has not outsourced its production to Asia. X-lite is Nolan's premium high-end brand, and the brand manufacturer also offers modern communication systems for protective helmets.
To the Nolan helmets in our Nolan shop!
https://blog.scooter-center.com/wp-content/uploads/2000/04/scooter-center-Nolan-Shop.jpg
1200
1200
Heiko Lepke
https://blog.scooter-center.com/wp-content/uploads/2016/04/Scooter-Cejnter-SC-Logo-2016.png
Heiko Lepke
2018-04-19 09:19:17
2018-04-26 11:40:51
Nolan helmets new at Scooter Center