Scootershow in Cologne March 24.03.2012th, XNUMX Scooter Customshow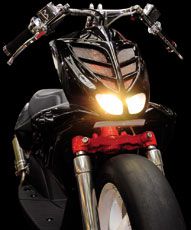 SHORT FACTS:
What: Scootershow in Cologne March 24.03.2012th, XNUMX Scooter Customshow
Where: Cologne adventure halls in Kalk
link: www.scootershow.de
What's up: Extremely converted, tuned and partly completely self-built vehicles based on scooters, presented on 1200m² in the Kalk adventure halls.
· Fat customshow
· Parts market
· Large dealer mile
· Food & Drinks
Live DJ
· Big trophy ceremony with moderation
Date: 24.03.2012
Start: 12:00
End: 18:00
TICKETS: www.tickets-scootershow.de
Saturday, 24th of March 2012
Then it's that time again: In the Adventure halls Cologne-Kalk we present to you from 12-18 Watch the scooter tuning scene event for the fifth time.
On over 1.200 sq.m. you will find everything that speeds up the heartbeat of the scooterist:
Brief overview of the program:
· Fat customshow
· Private parts market
· Large dealer mile
· Food & Drinks
Live DJ
· Big trophy ceremony with moderation
Dont miss it! You can present your scooter during the custom show. It comes across really fat on the skater pipes and you can show how much passion, time and know-how has gone into such a project. Here you can become the trendsetter of the Season 2012 , or with like-minded and professional tuners and customizers yours Tips and tricks exchange. Big trophies are waiting for the best Customscoots!
Far from big business, you can offer the parts on the private market that you no longer need. Or get a bargain to move your projects forward. A great opportunity to chat about petrol and meet like-minded people. Providers have to register in advance and then get a 3 x 1,5 m sales area. If you can't find what you are looking for here, just stroll over to the dealer mile, where special offers from professional providers await.
So that the atmosphere is right, we have provided food and drinks. The whole event is accompanied by various DJs and professional moderation. So it can be endured and with your help the whole thing will become a top scene event.
From the scene for the scene!
Here it goes to Registration /Ticket sales
[googleMap name = "Adventure Halls Cologne Kalk" width = "600 ″ height =" 500 ″ directions_from = "true"] Christian-Sünner-Straße 8, 51103 Cologne (Abenteuerhallenkalk) [/ googleMap]
https://blog.scooter-center.com/wp-content/uploads/Stunt.jpg
230
191
Uwe
https://blog.scooter-center.com/wp-content/uploads/2016/04/Scooter-Cejnter-SC-Logo-2016.png
Uwe
2012-01-26 16:09:23
2014-05-22 08:13:04
Scootershow in Cologne March 24.03.2012th, XNUMX Scooter Customshow