Scooterist Weekender Cologne 2022 – Winners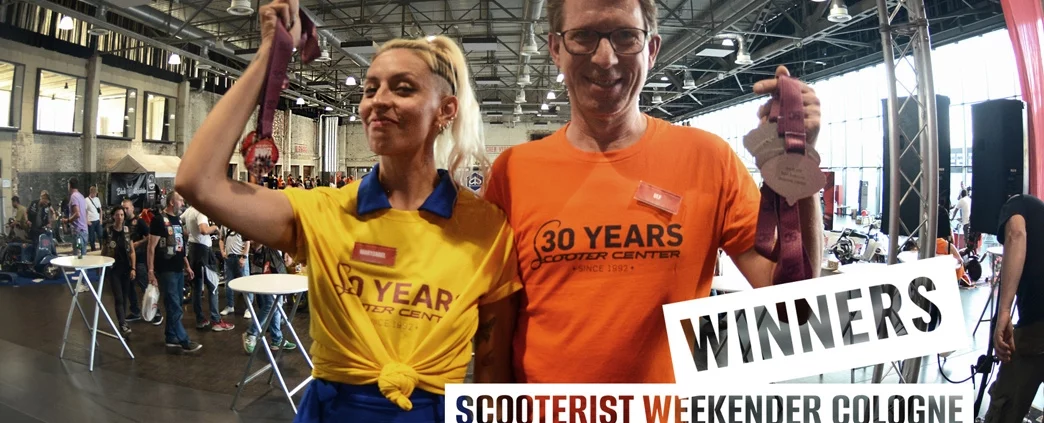 Engine:
Quattrini C200 housing, Quattrini crankshaft 56,5mm stroke, Quattrini M200 cylinder, head machined - compression 11,5:1, exhaust FalkR M200 Touring, Crimaz CM5 clutch with multispring (6 springs), Bordi Corse clutch cover - fully hydraulic, Crimaz Grand Tour gearbox , Crimaz 28/67 primary, Overrev repair kit springs, Overrev ignition, KR Automation air number 12, LUZ 3D intake rubber, Smartcarb SC38, Marchald air filter 100×65, electronic Mitsubishi fuel pump
Painting: Porsche Miami Blue.
special parts: Carbon flip-tail, fully hydraulic disc brakes front and rear, fully hydraulic clutch, Superlow fork, Stage6 High-Low suspension, Polini Evolution rims 2,5×10, Hyperpro steering damper.
Thanks to: Enzo (!!!), Trisi, Tom and many others
Conversions: Replica of the Baracuda by Christian Clerici - Motorsport Rennwagen
Engine: 221 Malossi Sport
Painting: Airbrush
Best Vespa Largeframe (pre-P)
The inspiration for the name of the scooter goes back to Tessa seeing the scooters from Burnley and Pendle Scooter Club riding round the town where she lived and that scooter Club had the patch inspired from the trials of the Pendle Witches in 1612. The 70s and the scooter scene back then are the inspiration and that is also the reason why a Vespa Rally 180 with electronic ignition had been chosen. With Tessa's and Lee's connections they traced down info about how the period scooters of the Burnley and Pandle scooters looked, had been painted, what accessories had been fitted and even reproduced the wooden rear shield and club patches.
Built-by: Lee Abraham
Engine: Malossi 210
Painted by Gary Cooper @ MD Machine
Zottel Zossen Scooter Association
Loom: Streamline seat with ZZ logo
Front disc brake Worb 5 fully hydraulic
LED rear light in org housing
SIP speedo
Completely laid DC electrics.
Engine: 252cc Quattrini.
Power 30hp and 36NM at 5800 rpm.
Paint: The rally was completely brushed for the first time in 2004 by the company Doppelpack. The basis is a flip flop lacquer. In 2020-2022 the paintwork was refurbished and further brushed. Gold leaf is incorporated into the lacquer. All attachments are either 24k gold plated or covered with gold leaf.
Club BlechChaoten Rheingau
Tags: Cut and reinforced frame, Lambretta fork, drop bar, wide tires, BGM chassis, front/rear disc brakes
Engine:BFA 306 / 54Ps/52Nm /FalKR BFA 306 exhaust (custom made)
Paint: Porsche livery.
Self-made parts: Everything designed and manufactured in-house! CNC brake drum (designed for more than 400Nm torque) with interchangeable calottes for KR drive shaft or original toothing! Rear disc brake for BFA (internal) with self-developed brake caliper! Lambretta double disc brakes in front with 2x BGM calipers. 3D printed fender with integrated brake lines! Self-made CNC speedometer with Koso DB02... There's a lot more, but it's best to admire it yourself or contact me :-) Or Instagram #berndworscht
2nd place: Lars Kruse
Zottel Zossen Scooter Association
PX 225 Street Racer – Bj. 1982
Loom: M handlebars, Lambretta fork, self-made disc brakes front and rear, fully hydraulic
Engine: Power about 35
Motor Malossi housing,
Malossi MHR 57,
60s bell shaft,
carburetor 30mm,
ignition vape,
Nordspeed exhaust with rear silencer under the side hood, PS.
Tags:Handlebar, seat built-in
Engine: Px200 engine with 210cc Malossi ,S&S exhaust.
painting: Modifications made by my own hand
Tags: Homemade spoke wheel, disc brake with Stage 6 caliper and anti-dive.
Engine: Motorized with 177 Quatrini, 60 mm long stroke shaft and 28 Keihin PWK on membrane. 22.0 hp / 26.3 Nm under 6.000 rpm.
Vyatka VP 150 – Evil Igor
Tags: Tank below Vjatka above Sei Giorni Style, fenders offset for tires and headlights integrated, Acma saddle offset, rear light conversion to full LED, beautiful rim lighting for presentation purposes, controls installed in a copper arrangement, of course the well-known carburettor interior lighting, various fork adjustments and a lot amore
Engine: PX with 172 Quattrini, 57 Mazzu shaft, 30 Polini carburetor, 22/64 BGM Superstrong on BGM 200 gearbox with Benelli secondary shaft 3 short 4 ultra short, pipe design Bullet with chic 265mm silencer at the bottom.
painting: '61 O paint mostly
Special parts: 13 / 12 inch prototype rims milled from the solid on self-made adapter, Ottopuntouno front brake system, SKR fork, Motogadget speedometer, button, aluminum mirror and indicators in connection with Axel Joost control, LSL handlebar assembly, and certainly a lot more that I don't have right now know more ;-)
Thanks to: Superkölle, Blechmann 74 and Bussy Wassereis
Loom: Matthias Scherer bought the engine along with the cooler, hoses, water pump, etc. and installed it in the current frame.
The complete vehicle had then completed a number of acceleration races along with test bench runs and scooter meetings.
I was lucky enough to be able to purchase the almost complete vehicle in a disassembled state three years ago.
At the beginning of 2022 Ronny and I (Scoot Devils/Smallframe-Factory) then started to restore them in such a way that it corresponds to the current DBM rules, it was clear to us from the start that the Scauri/Scherer belonged back on the track.
So we had to make a few cuts and couldn't restore it quite like the two Rollershops.
But I think we managed to maintain a high recognition value.
Engine: Cylinder Polini for the Cagiva SST (piston controlled)
Water-cooled head
Stroke 51 mm
Bore 57 mm
About 135 ccm
34 Dellorto
Scary exhaust
6V electronic Motoplat ignition
4 gearbox
The entire engine was built by Stefano Scauri about 30 years ago. The housing and cylinders were extreme
edited by Stefano. He was absolutely thrilled that this engine still existed and immediately offered his help that it was one of the very first engines he had built.
This engine was then rebuilt by Stefano in 2022 using today's materials and is absolutely suitable for quarter miles.
3rd place: Ferdinand Baratella
v50
Conversions: Zip SP fork shortened, KR brake and rim in front, completely exposed O paint, custom seat based on Ancillotti, etc.
Motor: Quattrini M200, Egig Boa Down & Forward one-off, Dellorto 39 VHSB carburetor.
Painting: O-Lacquer freed from 4 coats of 2K lacquer.
Thanks to: Vespower By Baratella, Fraternati SC
Front shock absorbers: BGM Pro SC/F16 Competition
Rear shock absorber BGM PRO SC/R1 SPORT
Front luggage rack - Moto Nostra
Horn with compressor • Kübler Speedwheel
Front and rear brake calipers - PORCO NERO POWER 2.0
Rizoma ventilation grille
Vespa GTS HQ rear luggage rack
Rims Vespa 946
Oil pan with sight glass by Buchsenfuchs glossy black
LED indicators Moto Nostra
Speedometer insert Moto Nostra
Swingarm cover Moto Nostra
Seat with seat heater – seat doctor
Custom cruiser windshield
Vario cover painted black
Cuppini bumper fender
Mirror short Moto Nostra
Brake lever chrome BGM Pro CNC
Exhaust system ARROW E4
Wave brake disc front & rear
Color: Porsche Miami Blue (2019) full paint job
Special parts:
Rims & tires 13 inch Miami Blue
Rizoma air intakes
Fender Zellioni reworked to 13″
BGM chassis front & rear
Brembo 4 piston racing brake system in front.
Wave brake disc front & rear
Side rails black OEM, luggage hook BGM Alu CNC
Bracket black powder coat
Footpegs black high-gloss compacted
Variator cover painted
Oil pan black high-gloss compacted
Speedometer frame Vespa Notte
Sport lever aluminum CNC black, handles Moto Nostra
Bar end weight Mini
Rear light LED Power 1 3in1 brake/indicator/rear light
License plate self-illuminating (LED foil)
License plate offset with cover RIZOMA painted
Horn with compressor
Modification variator JCosta
Clutch Dr Pulley HIT
Cylinder & Piston Malossi
Kevla belt Malossi, spark plug iridium
Exhaust REMUS Dual Flow
Color: Tricolori
Modification: Variator JCosta, air filter, Kevlarbelt Malossi
• Clutch Dr Pulley HIT clutch
• Malossi Tourqe Master
• Malossi Cylinder Kit + Malossi V4 Head
• ECU tuning adapted to engine.
• Bodywork blinkers, rear lights welded shut
• Front fender Zellioni metal
• ARROW E4 exhaust system
• Rims & tires 12 inch Vespa 946
• Tires HEIDENAU K80
• Rear light indicator brake station wagon Kellermann Ato
• Front indicators Kellermann BL2000 Dark handlebar end indicators
• BGM Pro SC/F16 Competition front gas pressure
• BGM Pro SC/R1Sport rear
• Brembo 4 piston racing brake system in front
• Wave brake disc front & rear
• Black side rails, BGM Alu CNC luggage hooks
• Luggage rack, black, short
• Black footpegs
• Variomatic cover & oil pan black
• Vario cap "300 RIZOMA" – Oil dipstick RIZOMA
• Speedometer frame, Sport lever, Moto Nostra grips
• Front headlight H4 Daymaker (Phillips)
• Horn with compressor
Tags: Legio X. Monza 240, airbrush, engraving, gilding, many individual parts self-made. Revised since the last SC custom show

Engine: Legio X Monza 240, liedesholm clutch, BGM ignition, shaft, shock absorber. 34mm Dellorto, franspeed supertourer.
Painting: Legio X, airbrushed, overall English custom design.
Engine: The engine tuning is based around a TS1 ported by Tobi from Nordspeed-Racing. And is rounded off by a Mikuni 35, bgm crankshaft and The Scooter Republic TSR exhaust
Painting: After two decades in matt-schwatt, Maddin from the Kelten Rollerclub Ostholstein has rebuilt its dl 150 with a super successful paint finish.
Engine:
Targatwin 275

2in2 exhaust wrapped

-MR silencer

-Bergspeed membrane conversion

-CP Smoothmaster clutch

-CP Cyclone 5 transmission

-CP Multispline main shaft and drum

-CP chain tensioner

-CP gear cover

-Salemspeed CNC exhaust port
Power:
37 hp at 8574 rpm
31 Nm at 8170 rev
Others:
-10° drop
-LTH disc brake with 2in1 pump housing fully hydraulic
-BGM dampers front and rear
-BGM springs in front
-BGM stainless steel rim in front
-MB fork links
-Sava MC 35 S racer tires
-Ancillotti Bench Handmade
- XXL tank
1st place: Flappo Topp Mod
SX 200 / SST 265 Bj. 67


Robert Eder, who is better known all over Europe as a top '60s Mod DJ as Flappo, has been a dedicated Lambretta enthusiast since 1986, and owns this late '68 Innocenti Lambretta SX200 since the early '90s. After being one of his work horses for many years, he got one of the super-duper Rimini Lambretta restorations on this bike ready for our weekender. It is based on a two-tone paint scheme to combine a classic '60s look, along with modern technology that is build around a Casa Performance SST265 engine with all other goodies from the hi-flyers of Casa Performance.
80's old school custom
Engine:Cylinder 225 Stage4, GP crankshaft, 34 Amal carburettor, electronic ignition, Mikeck exhaust
Painting: VW Golf2 Fire and Ice Purple, Gold Leafing and Pinstripes by Alexander Henkemeier AHA-Design Bielefeld.
engravings by Don Blocksidge, Pete Robinson. Chrome, Gold and Pike Nuts.
Thanks to: Jens Kruse, AHA Design, Jetson's Lambretta Club
Best Lambretta Series 1 & 2
1st place: Mad Farmer
TV 175 Series / BSG305
This TV175 Series 2 was finished in time by Rimini Lambretta Center for the Weekender. Their customer 'Mad Farmer' requested a 60's Custom scooter, with a huge modern slant. So combined is a RLC resto' but with lots of his ideas that needed to bring to life. Basically the paintjob goes along the lines of a 60's racing car in Aston Martin colours, Lambretta logos reworked with a 'Norton' font, centrally mounted hinged tank and a BSG305 engine to power the show. Both petrol tanks are custom made and are linked. The 39mm Dell'Orto carb on a BSG engine has an unusual exit point (behind the kickstart side engine mount) and an extended toolbox has been made to give a few more liters. Too many details to list them all here like Serveta Wintermodel mudguard with chrome crest to match with the paintjob, magic and secret Lucas brackets for legshield fitting, mechanically Rev Counter has started, lots of bling bling treatment and list goes on…
Lambretta: reg RCA 447B, 1964 series 2, Mugglelo 240,5 speed
Bob Ball's Eclipse Lambretta is obviously inspired by music and lowrider looks. It combines the 50's American lowrider look with a paint theme based on 'The Eclipse' the first legal all-night 'Rave' club. It all started in 2016 with an API Li150 Series 2 that was used as a blank canvas to create a one-off scooter. The panel work and modifications alone would go beyond the frame.
So if you want to know. the complete story check this Scootering backissue: https://issuu.com/mortons-digital/docs/sc_24072018.
3rd place: Darren Creek
LI series 1
Tags: Water cooling, aluminum tank/airbox, exhaust + some more.
Motor: Casa is 265 fully water-cooled mb 5 speed, Aupuff conversion for torque.
special parts: Water cooling routing/funnel airbox conversion to spanish fenders double disc brake.
Thanks to: Myself, all work by owner.
Fahrzeugwerke Kannenberg (FAKA) from Salzgitter-Bad
Type: Commodore
Year of Manufacture: 1955
This rare scooter (9 pieces are still known worldwide) impresses with its unusual design (comes from the world-famous designer Louis L. Lepoix) and also offers extravagance under the sheet metal dress.
Motor: ILO M 200 V (197 ccm; 9,5 hp; 4-speed gearbox; Siba Dynastarter)
Technical features (selection):
A fully hydraulic integral braking system from ATE, a powertrain swing arm made from electron cast (magnesium) with a central spring behind the nozzle and a number of other things demonstrate exceptional technical standards.
• Front fork with double tube telescopic fork and one-sided cast magnesium wheel carrier
• Cockpit with speedometer, timer, idle, high beam and charge indicator light
Details of the vehicle on display
• one of 9 worldwide known Commodore (around 500 were only built)
• The vehicle is in its original condition (incl. O paint)
• Conservational restoration with the greatest possible preservation of the substance
• the only Commodore that drives, is TÜV approved and has O paint
Summary: The Commodore is factory custom. Ordinary is neither external nor internal. It impresses with its unusual design and also offers extravagance under the bodywork.
The engine in this 1955 Commodore is an ILO M200 V with an electric dynastarter.
Tags: Lambretta and Kawasaki 4-stroke technology on each other. One could certainly argue about whether the Li3 frame or the frame of a Kawasaki GPZ500S form the starting point. In order to get the rear frame of the Kawasaki under the frame loop and side panels of the Lambretta, the loop was lengthened by 13 cm and widened by 4 cm at the front. But in such a way that an original rear light still fits. The original GPZ swingarm was shortened accordingly and the translation shortened. The hoods have been adapted to the new frame dimensions and are now held with Aerocatch fasteners from automobile racing. The tank (12L capacity) sits in the fairing lower and was a PX glove box in a previous life. It is filled via a Newton tank cap and the fuel is supplied via a Hardi pump, which has found its new home under the front fender. Shifting takes place via a Translogic power shifter, with the clutch only being required for starting off. Everything from Motogadget was installed once and Marek's #24 would probably be a more than perfect demonstrator for them.
Motor: The 60 horses should be enough for 190 km/h plus easy. The double disc from Casa Performance is used for deceleration at the front and the seat comes from Weitweit Gar.
painting: the livery and race number are inspired by Jeff Gordon's NASCAR Chevrolet.
Tags: Completely :-)
Motor: Quattrini 232
36 hp with 38 Nm are achieved by the 232 Quattrini in connection with a custom-made Viper Curly by Tobi from Nordspeed-Racing. It is ignited with a Vape Sport.
The Pinasco engine housing is extremely extended in the intake area and equipped with a self-made intake manifold. The crankshaft is a one-off, again from Nordspeed-Racing Tobi. The clutch has 24 teeth and comes from bgm.
painting:Martini livery.
special parts: frame, fork, disc brake front + rear, pneumatic seat, rear end, etc.
Thanks to: Markus Dicke
Conversions: SX150 converted to GP/DL spec with all Fiberglass bodywork.
Motor: ss230 and ss250 Casa Performance Casa Case.
Paint: No fancy paint simply Ferrari Rosso Corsa.
special parts: Oiltek one off Fuel Tank, Casa Performance Disc brake, Cyclone 5, Powermaster Clutch, Ducati Ignition, GRP Bodywork.
Minus screwdriver
BJ 1984
– built by Stoffi's in Austria
– Livery by Pfeil Design from the 90s
– Dropbar with elements from the motorcycle sector
– Homemade disc brake
– Motorino Diavolo sequential circuit
– Brake pedal relocated to the rear
– Rear shock absorbers with deflection
– semi-hydraulic clutch
– TS1 cylinder
– Mikuni TM30 carburetor
– Up & Over exhaust homemade
- everything registered!
Inocenti Lambretta LI150 Series3
Engine: Cylinder 175 Stage4, carburettor 34 Amal, GP crankshaft, electronic ignition, TNT exhaust.
Painting: Opel Green by Stefan Ottensmeier Ummeln, Bielefeld.
special parts: Complete frame rebuild, cables routed through the frame, BeedSpeed ​​lathe fork, Pete Robinson and Don Blocksidge engraved parts, Pike Nuts.
Thanks to: Stefan Ottensmeier, Jetson's LC
Tags: The 17 l tank is Borgo's garage self-made.
SX front disc brake,
tiger skin cover,
Self made fly screen.
Motor: AF 5-speed gearbox in use. The 250 ccm Rapido also comes from AF and is equipped with an LTH Racing & Shop membrane and bgm Big Box.
painting: New paint in original color
Motor: 190 Suzuki Conversion, 22mm Dellorto, BGM Clubman.
special parts: original accessories / bgm Pegasus seat.
BJ according to papers 1960 ;-)
– narrow leg shield with spoiler from Saigon Scooter Center
- Side panels and fenders front + rear made of GRP
– slight drop from Worb5
– Mito disc brakes
– Seat by Streamline
– SST265 Casa Performance Cylinder
– Mikuni TM35 carburetor
- Protti Ultratourer exhaust with Fox silencer
– Motto: light, fast, loud
- everything registered!
Road legal Lambretta choppers
Motor: Casa Performance SS 225, Mikuni carb, TSR Evo exhaust. BGM clutch
The scooter center legend, built for the quarter mile, in the late 80s and early 90s with the help of Stefan1 + 2, Robert, Harti, Michi, Martin, Uli, Ralf and Christof.
Motor: Welded crankcase, Cagiva crankshaft and cylinder, 36mm Dell Orto carburettor, Cirri clutch, Jim Lommas exhaust system adjusted.
Chassis: Vespa Sprinter with SS50 handlebars, frame lengthened and reinforced.
Attachments: Grimeca scooter central disc brake, Bitubo struts.
Ten inch terror
A Bajaj and three PX battle frames, a few motorcycle parts and a Husqvarna Motorcycles WR 360 engine were the ingredients for the incredible projectile that saw the light of day in 2015 after five years of construction. Electrics and instrumentation come from Motogadget and much of it can be found in and on the slightly dropped handlebars. The glove compartment acts as a tank and holds 14 liters. The flip rear is attached with eight screws, the lying shock absorber is controlled via a deflection. The bench was self-made and Marek's favorite upholsterer Alex was purchased from Weitweit Gar.
Motor: The engine was refined by Marek with a Canonized exhaust and a combustion chamber developed by Overrev, among other things, and now delivers 55 hp / 45 Nm to the 6-speed gearbox. Shifting is via an electric power shifter without a clutch. A full-wave controller was installed so that the on-board network can handle the additional load, and the alternator and the electrics were completely converted to DC.
Conversions: BGM chassis / Crimaz disc brakes / Anti Dive Kit / powder coated attachments
Motor: King shaft BFA 244 cylinder / King shaft Brutus crankshaft 60 stroke / Quattrini C 200 housing / Fabbri clutch with basket / Benelli Bull gearbox / Vespower ignition / GP One fan ring / Dellort 39 / Egig BOA.
Painting: approx. 55% remainder O paint / nothing repainted
special parts: Short throttle from the forge of Inmaxwetrust / frame adjustments.
Thanks to: To everyone who knows me and my club colleagues from the Scoot-Devils
Conversions: Custom-made frame, Springer fork, metal flake paintwork, all in all custom. with airbrush,
Motor: 235cc Monza engine with Mikuni TM 35 carburettor, this, that and much more. Engine was revised by Po, full of power.
Painting: Metal flake with airbrush
Thanks to: Höppi, Po, we are the hottest.
special parts: Sidecar made from rocket from the children's carousel Motor: Standard / but 12 V Painting: Black/red by myself Thanks to: Peter Witzel.
Vespa GT200L BJ 2003 with Roadster Mini sidecar BJ 2022
Racing Sixties Design / Sidecar Roadster Min
Engine: Malossi 209cc with live camshaft
painting: traffic gray b matt
Special parts: Sidecar Roadster Mini.
Thanks to: FA Däschlein, especially the mechanic Peter Kundner, who built the sidecar according to my wishes.
Story: Bought from first owner. When I was 18 years old I had such a Servetta, 37 years later I found such a Servetta again
Paint: Original , hard to find!
Vespa V50 N Special
Tags: Cylinder, exhaust, cascade, fenders, lamp ring, step strips, seat, tank, piping, paintwork.
Engine: 75cc Polini (otherwise all original)
painting: Original paint restored
Special parts: cylinder, exhaust
Thanks to: ScooterCenter team
Vespa V50s
Engine: 133cc polini, 133cc rotary valve with 28 polini carburettor and polini exhaust
painting: Blue olack
Special parts: Accelerator throttle, motor, olack
Thanks to: Oliver Kluger
https://blog.scooter-center.com/wp-content/uploads/2022/09/Winners-Scooterist-Weekender-Cologne.jpg
552
1044
Maryza
https://blog.scooter-center.com/wp-content/uploads/2016/04/Scooter-Cejnter-SC-Logo-2016.png
Maryza
2022-09-16 14:07:04
2022-09-26 15:51:02
Scooterist Weekender Cologne 2022 – Winners