VESPA GTS 2023 – MATCHING PARTS

Vespa GTS 2023
The Vespa GTS 2023 is the latest model in the popular GTS range from Italian scooter manufacturer Piaggio. It is characterized by a combination of classic Vespa design and modern technology. Compared to the previous models, the Vespa GTS 2023 offers a number of improvements and upgrades.
A major difference is in performance. The Vespa GTS 2023 is equipped with a powerful engine that allows for improved acceleration and a higher top speed. This makes the driving experience more dynamic and sporty.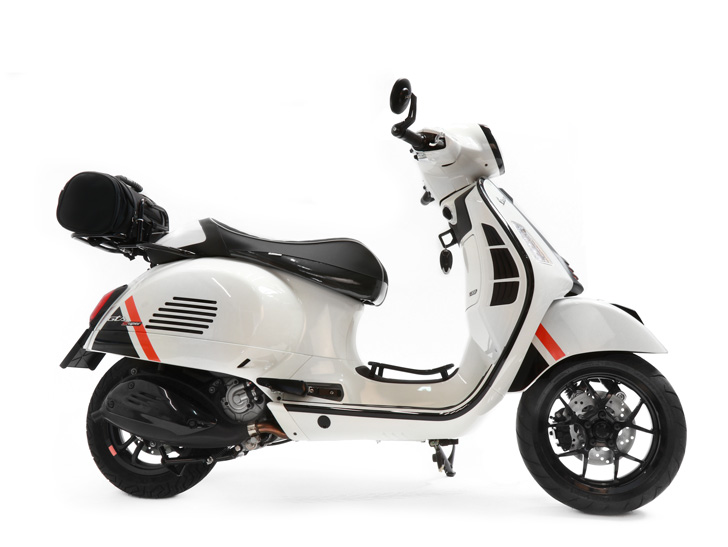 New Vespa 2023, new look
In terms of design, the Vespa GTS 2023 maintains the distinctive Vespa style that has been popular for decades. However, it also offers new color options and finishes to meet individual rider tastes.
However, to go beyond the range of factory models in terms of customization, there are several brands whose range is adapted to this new model. Here we show you some:
New from Moto Nostra - 2023
Moto Nostra matching parts
Moto Nostra places a special emphasis on modern Vespas and we have reviewed some accessories that also serve the latest models.
Footrests with adapters
Piaggio chose the position of the passenger footrests in their GT/GTS/GTV models somewhat unhappily.
The CNC milled Moto Nostra with aluminum adapter position the original footpegs where they belong. The ergonomics of the seat are greatly improved, and long tours are also a pleasure. The noble anodized surface protects the aluminum and offers a fine look.
License plate holder and license plate light
Moto Nostra launches an elegant way to place the license plate.
As of this week we have them Rhizome-Products in our range introduced for the GTS 2023, a range of luxury items that give the already modern GTS a very modern look.
The original Piaggio accessories should not be missing from this selection
Piaggio presents this accessory in eye-catching colors. It shows that the magic is in the details.
And from the "Original Equipment Manufacturer" products, we also have a super practical nylon helmet bag specially adapted for the storage compartment of modern Vespas.
bgm developments also points to modern Vespas, and here is an example of one 13″ GTS/GTV rim, which isn't out yet, but we've already received a sample and it looks great!
The shock absorbers are also currently being brought onto the market with ABE. Wait for more news, we will keep you informed.
https://blog.scooter-center.com/wp-content/uploads/2023/06/SCBlog_Titelbild_VESPA-GTS.jpg
1092
1092
Maryza
https://blog.scooter-center.com/wp-content/uploads/2023/08/SC_BLOG-300x69.png
Maryza
2023-06-23 16:22:53
2023-09-08 09:14:52
VESPA GTS 2023 – MATCHING PARTS