Now set the Vespa ignition correctly - "The Whale" is available again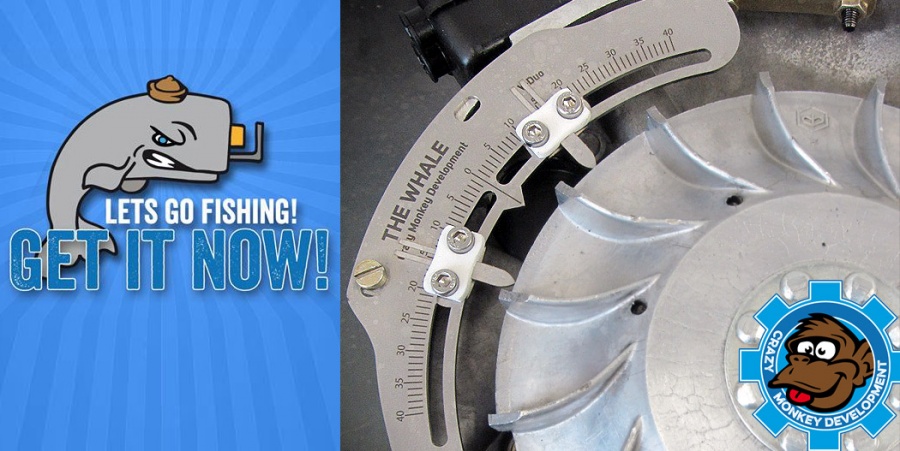 The tool for setting the Vespa ignition is available again
That started well. Just new on the market, the latest CMD product was already sold out. As of today, the now legendary tool for setting the Vespa ignition is available again.
Vernier caliper for ignition timing -CMD The Whale V-Duo- Vespa Largeframe and Smallframe
Article no. CMDTW0010
Instructions: Set the Vespa ignition with the whale
A detailed one Video tutorial here. Tutorial video Adjusting the Vespa ignition
We have also received new instructions in PDF format: CMD-Instructions-The-Whale-vespa-zuendung-set
The Whale introduces Alex here in the blog.
BUY THE WHALE HERE
The needed Ignition gun you can of course also find in the Scooter Center Shop:
Ignition light gun -OEM QUALITY- strobe lamp flash gun - ignition 6V / 12V
Article no. 3330637
The ignition timing is important for the thermal health of the engine and the full development of power. If you convert your engine, you should not rely on the existing markings for ignition adjustment, but measure yourself. This is easily possible with this electronic ignition timing gun for gasoline engines with contact or transistor ignition systems (CDI ignition as in series with ET3, PK, PX, Cosa, T5 etc.).
Both 6-volt and 12-volt ignitions can be set.
Note: Regardless of whether the ignition is 6V or 12V, an external 12-volt power source (e.g. a car battery) is always required if the vehicle does not already have one.
A super bright xenon tube and a special converging lens guarantee optimal visibility of the fixed marks even at speeds over 8000 rpm in the near field range.
The pistol is connected to a 12-volt battery using the crocodile clips and the inductive terminal to the spark plug cable (without direct contact with the stranded wire)
Buy ignition flash gun here
https://blog.scooter-center.com/wp-content/uploads/2015/10/der-wal-wekzeug-zuendung-einstellen-vespa.jpg
451
900
Heiko Lepke
https://blog.scooter-center.com/wp-content/uploads/2016/04/Scooter-Cejnter-SC-Logo-2016.png
Heiko Lepke
2015-12-02 16:40:04
2015-12-02 16:53:04
Now set the Vespa ignition correctly - "The Whale" is available again