That was the Scooter Center Open day 2021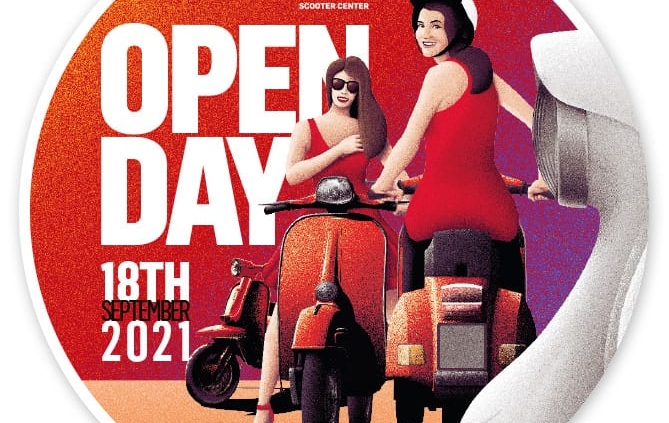 Scooter Center Open Day 2021 with almost 1.500 Vespa and Lambretta drivers
A day with friends at friends
This is not just an empty marketing phrase, it is the quintessence of our Open Day!
We live scootering and the cult around it and maintain intensive contact with the scene and are part of this culture around our beloved scooters. We live that and have been with us for more than 30 years.
So it was all the nicer to finally meet normal people and friends again. People who are just as crazy about scooters as we are!
And for that we want to say thank you! Thank you for being there and making the day an unforgettable experience.
Open Day -2021 - The Scooter Center Team says thank you!
Finally normal people!
We hit the bull's eye with the subject of our Open Day newsletter. We actually heard it literally and heard it from you several times on our Open Day! Splendid!
Scooter Center Open Day 2021 - 1500 Vespa & Lambretta Scooterists
The scooter drivers are hot
We all know what has been going on in the last few months, restrictions, no or hardly any events. We knew you guys are hot, we are hot! And we were warned:
"The scooter drivers are hot, do you know what you're doing to each other?"
Yes! We thought we have optimized our concept, taken hygiene measures and simply bought twice as many drinks and food than usual - you still got us to fetch more supplies!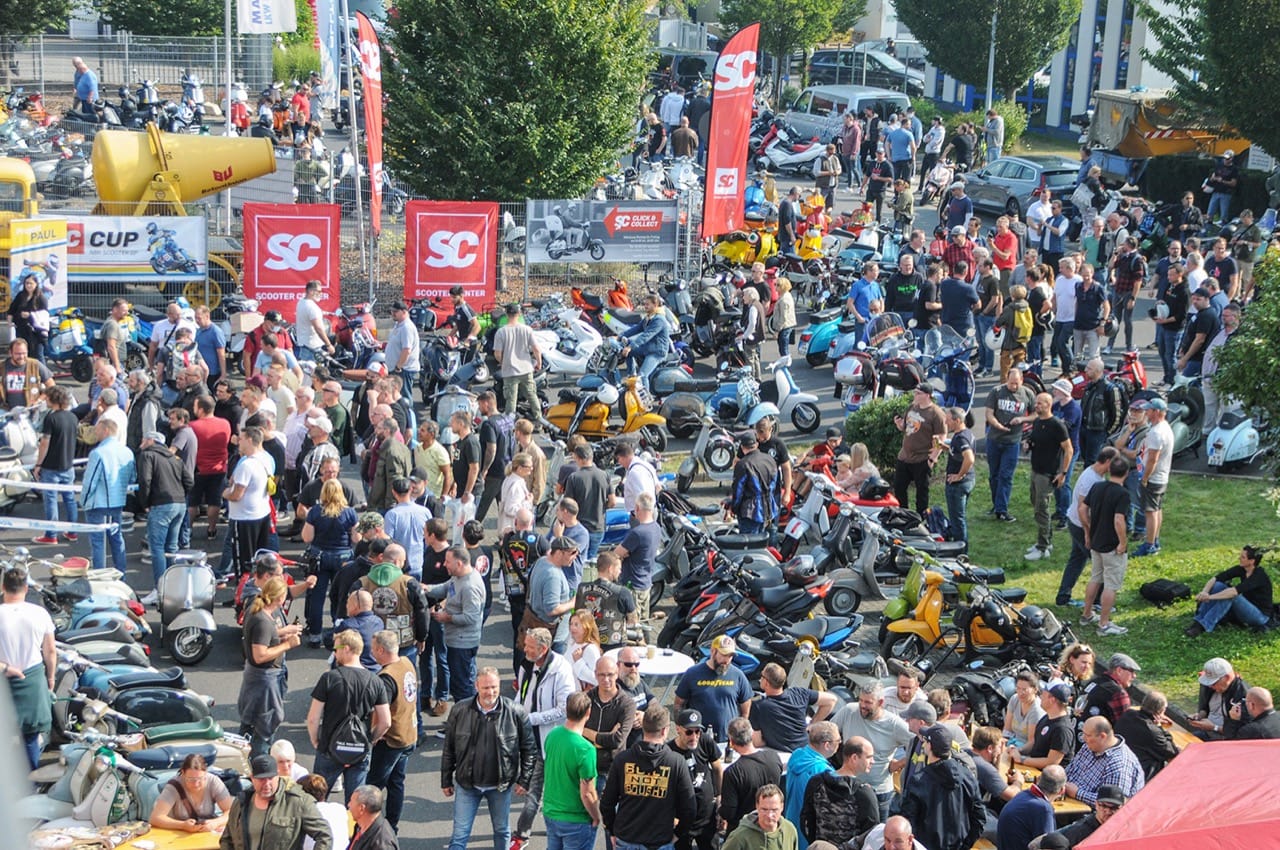 Our test bench, including Alex and Uwe, also ran hot - with the exception of a short break, there was test bench run after test bench run!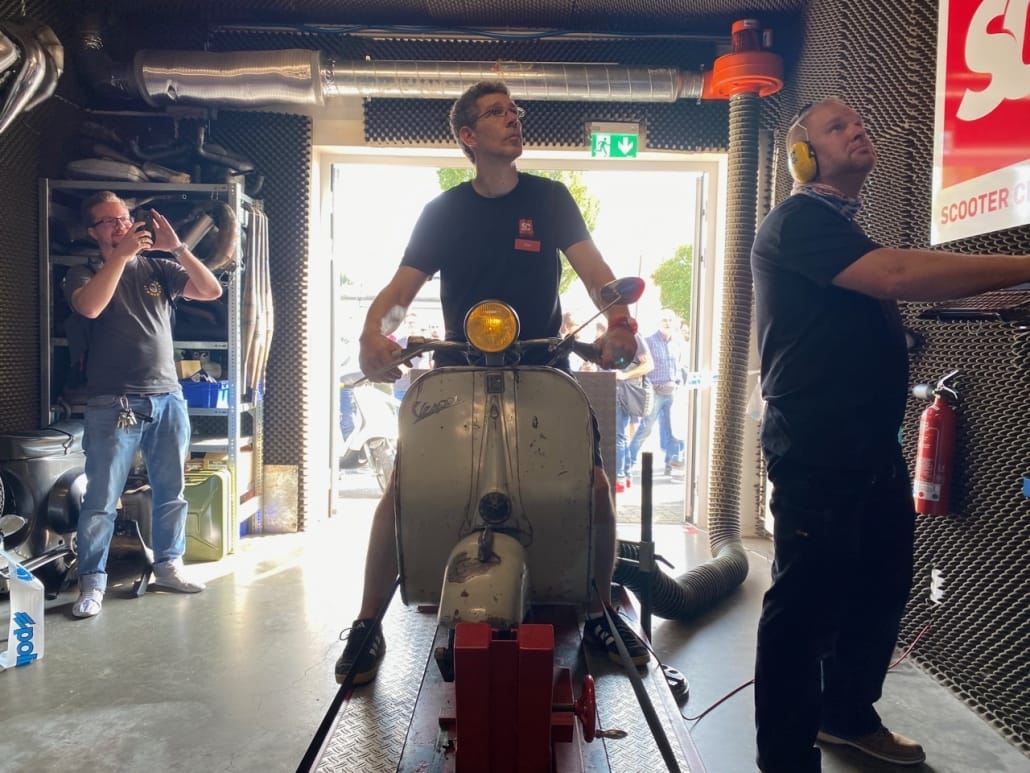 Donation to the German Children's Cancer Foundation in the amount of 6.179,80 euros
The Children's Cancer Foundation is happy about your thirst and hunger! And Markus Mayer successfully completed his Gentleman Giro 2021 with us and diligently exchanged his buttons, patches together with our biscuits, posters and key fobs for donations. We have already raised 1.179,80 euros!
We have rounded up the entire income from our catering to a smooth 5.000 euros and can thus transfer 6.179,80 euros to the German Children's Cancer Foundation. We are so pleased and proud of you and your thirst!
International exhibitors and visitors
In addition to our own huge parts market, we again had small and large stands as guests. Our exhibitors came from all over Germany but also from Italy, South Tyrol and Tuscany. Thank you for coming and for the great products you exhibited!
M&R Handmade Vespa Bags (I)
Parts market and used scooters Garage Rosso (I)
Parts market Bernd
Parts market Hubert D.
Parts market Herbert S.
Parts market Milan design writer
Acki and Mika parts market
Markus Mayer Gentleman Giro
évoRetrofit electric kits for classic Vespa
Crazy Monkey Development & Savage Scooters
Tom Super Lui (I)
McCloudt's Originals
Parts market Kölle
DeZonk parts market
Scooter paradise Vespa dealer Cologne
Christian S. Rollershop Zirris Scoot-Devils
Èvo Retrofit, for example, was able to offer over 60 test drives with their electrical conversions. Here we have an interview with the team and also with the impressions of the testers. Maryzabel and I have also tested the electrified Vespas, look forward to the video!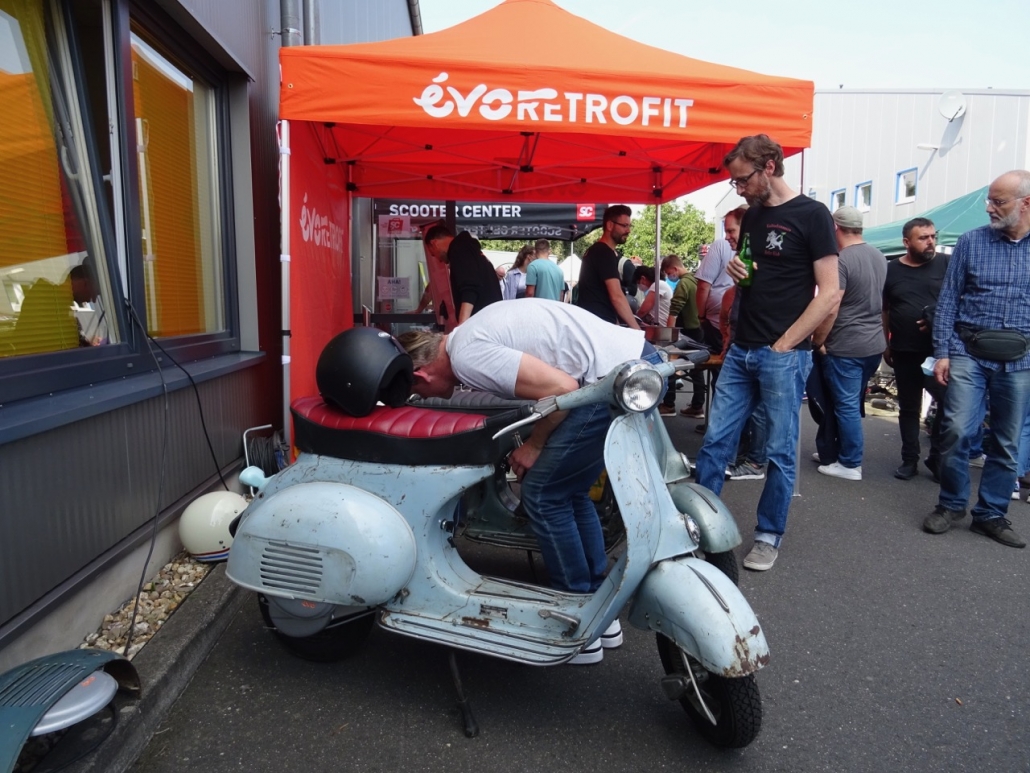 Our visitors were a colorful mix on classic Vespas and Lambrettas and modern GTS, Primavera and Co. Super. It's great that so many came in style with the scooter!
We were able to get clubs and drivers out
Austria
Luxembourg
Belgium
Netherlands
greet. We spotted the following clubs:
Viennese rogue
Flatliners
Filthy & Sly
Toast riders
Minus screwdriver
Vespa Club Roude Leiw Letzebuerg
Vespen Nest Düren
Vespa Club RheinSchalter Cologne
Tin vespa Vespa joy
Vespa Club Mainz
ONGOING
Kulturbanausen Roller Club Rhineland
Vespa cowboys
Scoot Devils
Blues SC Munich
Vespa Club Bogota
Have we forgotten someone? Please report?
My personal highlight
I was very happy to see the many old faces and made many friends. I especially liked the two ROLLERSHOP - Zirri-Smallframes pleased. The dream of my youth. Many of you are probably feeling the same way!
There will be a special with an interview shortly. This is a great story that you shouldn't miss. Soon here in the blog.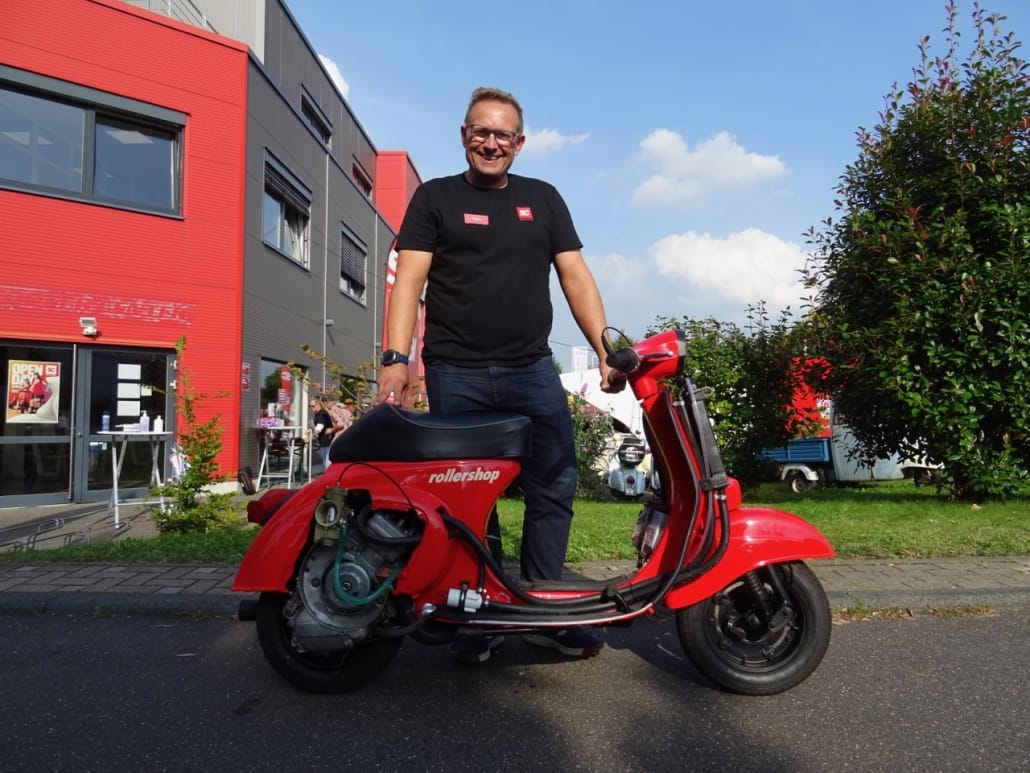 Photos from Scooter Center Open day 2021
https://blog.scooter-center.com/wp-content/uploads/2021/09/Aufkleber_SC-Open-Day-2021_80x80.jpg
669
669
Heiko Lepke
https://blog.scooter-center.com/wp-content/uploads/2016/04/Scooter-Cejnter-SC-Logo-2016.png
Heiko Lepke
2021-09-20 20:43:56
2023-05-26 10:09:06
That was the Scooter Center Open day 2021