David Batschi from AT HALF AT THE BAR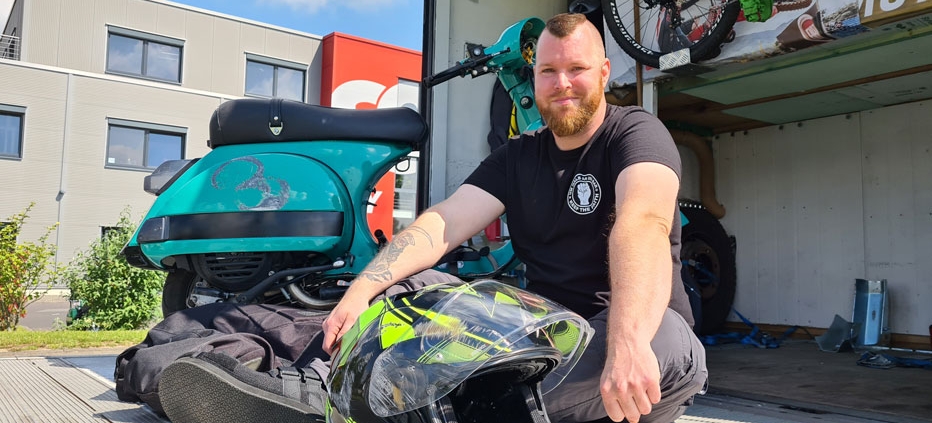 About AROUND HALF AT THE BAR we have already reported. Sitting in the middle of the network Daniel drescher and has the overview and coordinates the campaigns and fundraising for the worst case scenario throughout Germany.
We have been trying to support him in this for some time and are deeply impressed by Daniel's tireless commitment.
Yesterday David Batschi from Hamburg visited us, who luckily had a guardian angel with him on tour on May 1st, 2022. At around 100 km/h on the Autobahn, David's shock absorber mount broke and he went over the handlebars, slid over the road and was braked by the crash barrier. With incredible luck in the misfortune, he "only" broke four ribs and his foot in two places and also suffered a concussion and a few minor injuries.
About a month after his accident, David visited us and the shop den 200 € voucher redeemed by Um Halb at the Bar eV. We are enthusiastic about David's good mood and cheerful nature and of course also about the fact that - thanks to a good full-face helmet and a good motorcycle jacket - nothing more happened to him. The David shopping list included a front bgm shock absorber and a new one Shock absorber/brake caliper mount


Nice to see that David coped with the accident so well and is now on his way to the Scooter Dive from Filthy & Sly at a hunt.
No matter where you drive at Pentecost, at the Scooter Dive, at the Eurolambretta in Belgium, The Vespa Alp Days in Austria or with the 2 Men from Linz on the Rhine drive carefully and have fun!!
https://blog.scooter-center.com/wp-content/uploads/2022/06/David-in-SC.jpg
524
932
philipp
https://blog.scooter-center.com/wp-content/uploads/2016/04/Scooter-Cejnter-SC-Logo-2016.png
philipp
2022-06-03 16:55:41
2022-06-03 16:55:41
David Batschi from AT HALF AT THE BAR