Veybach Racing and Ciao Custompaint
Veybach is already a friend of the house, but they have a long history behind them: "For over 25 years, we have been passionately tinkering and tuning classic Piaggio mopeds"
Therefore, this custom paint Ciao, presented as a premiere at the #opendaysc, was not his first tuning.
We saw his work in action first hand Nörvenich moped race witnessed Frank, Roland and Maryza taking their Ciaos on a tour of the event. and with the adrenaline of seeing all these little ones doing their best, we didn't hesitate for a second when Veybach Racing Team needed spare parts to continue the race and we sacrificed the Ciao from Roland.
That's why we wanted to take a closer look at one of their new designs: the Custompaint Ciao. This is what Dirk tells us:
Moped race Nörvenich by Scooter Center and Veybach racing. #mopedtuning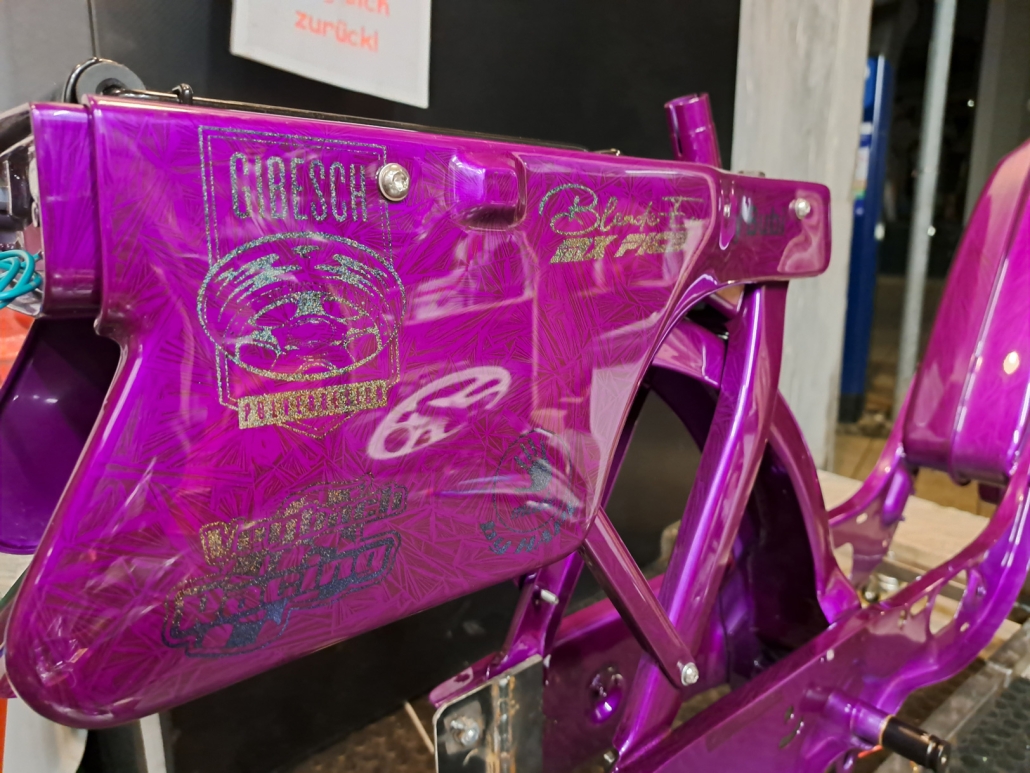 I had the "ICE effect" when I visited HaPe Bikes Workshop on one of the competition bikes he had painted and was immediately impressed. After a short conversation with him, we decided to try something like this on a larger area, i.e. on a moped. 👍
I then completed all the preparatory work so that Rolf could completely paint the Ciao, including all add-on parts, in silver.
All parts then went to Hape, who applied the "ICE effect" and also all of our logos using a complex paint job. 🥰
In the first step, all parts that had previously been painted silver were sanded again so that the urea required for the effect would otherwise roll off on the clear coat and not achieve the desired effect. After it had dried and crystallized, Hape painted a layer of anthracite over it and washed everything off again after drying 🤣
The remains of anthracite remained in the "crystal structure", which is then responsible for the desired effect. A total of 7 layers of purple glaze were then applied over this structure, which was sealed again with a layer of clear varnish!
Now it was time to sand again... So that the logos of everyone involved could then be painted on. For this purpose, Hape created special negative stencils using a plotter.
Then there were another 2 coats of clear varnish and lots of sanding and polishing work.
While painting the logos, René came up with the idea of ​​not using the 16″ 3-spoke "Avio" that he had already powdered in "Blackberry Candy" (and already fully assembled by me 😝), but one of my 17″ 5 -Spoke "Banana"… But then powder them in the shimmering "Rainbow" like the logos! So I'll get to it quickly @selog_brock
Ordered 2 Michelin Pilot Street and installed everything again... 🙄🤣
After I then on September 18.09th. all painted parts and on September 19.09th. After I got the rims back, I was able to start assembling them 😎
A little "screw marathon" with kid gloves then took place the next evenings, after my main work was over… 😴
An attempt was made to incorporate many details, such as color-matching end sleeves, Bowden cables and much more. Even the gearbox housing was painted in shimmering black.
The engine, on the other hand, was kept quite classic.
A Polini Speedengine with a DR crankshaft and a 57cc AlfaErre cylinder from the 90s was installed. There was also a 13/13 Dellorto carburettor with a Malossi air filter and a LeoVinci Krul to properly release the exhaust gases 😉
As a team and also with the support of my employer, I was finally able to finish everything in time so that the presentation at the Open Day on September 23.09rd. nothing stood in the way anymore 💪
Thanks also to the whole team Scooter Center, who supported us with the parts supply and also the fantastic stand at the Open Day!"
https://blog.scooter-center.com/wp-content/uploads/2023/10/SCBlog_Ciao-Custompaint_1080x1080.jpg
1092
1092
Maryza
https://blog.scooter-center.com/wp-content/uploads/2023/08/SC_BLOG-300x69.png
Maryza
2023-10-05 12:55:45
2023-10-10 12:31:37
Veybach Racing and Ciao Custompaint