Get the last LML engine housings for Vespa now - discontinued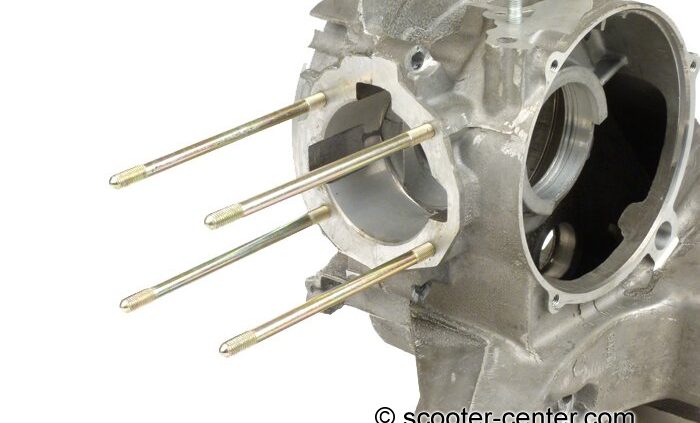 The last LML engine housings for Vespa 125
After LML stopped production for the 2-stroke engines, engine housings became rare and expensive. We can currently offer you the LML motor housing at a great price. A Piaggio case would cost about 3 times as much, if still available!
Get yourself an LML motor housing here
The LML motor housing are very popular, because you can drive the housing with all crankshafts of the PX80-125cc class. So you can achieve a displacement of up to 187cc on this housing without having to mill. All you need is one Long stroke shaft with 60mm stroke and a cylinder with 63mm bore, such as: ours: bgm PRO 187 cc cylinder
Compatible with all Vespa spare parts
All gear parts of the PX125 / PX150 / PX200 models from 1982 onwards fit.
Brand new engine housing manufactured by the former Piaggio subsidiary LML.
Suitable for
Vespa PX80
Vespa PX125
Vespa PX150
Vespa Sprint 150 Veloce (VLB1T from chassis no .: 0136075)
All models without separate lubrication (up to approx. 1984). The mold corresponds to that of the Ele starter models. Thus, the housing needs a Elestart fan wheel cover and a CDI holder for the electric starter models. To retrofit an electric starter, the housing can be retrofitted with stud bolts for the Elestartmotor (cut a thread, alternatively simply replace the existing hole in the fan duct with one that we also offer Sealing plate close).
The engine shells have not yet imprinted an engine number / prefix, ideal for conversion purposes.
The housing is not prepared for separate lubrication (no holes / millings for the oil pump drive).
The shaft seal for the drive shaft is on the outside.
Scope of delivery including pre-assembled stud bolts for:
Cylinder
Shift peg
central crankcase
Tip:
We recommend ours to complete it Engine revision kits as well as a Motor housing bolt set
Get yourself an LML motor housing here
LML motor housing for Vespa suitable for the following models, for example
Vespa

80 PX (V8X1T - 1983)
150 PX (VLX1T - 1980)
150 PX E (VLX1T - 1981-83)
125 PX (VNX1T - 1983)
80 PX E Lusso (V8X1T - 1983-)
80 PX E Lusso Elestart (V8X1T - 1984-1990)
150 PX E Lusso (VLX1T - 1984-97)
125 PX E Lusso (VNX2T - 1984-97)
125 PX E Lusso (ZAPM09300 - Bj.'98-'00)
125 PX E Lusso (ZAPM09302 - Bj. 2001-)
150 PX E Lusso (ZAPM09400 - Bj.'98-'00)
150 PX E Lusso (ZAPM09401 - Bj. 2001-)
150GL (VLA1T)
150 sprint (VLB1T)
150 Fast Sprint (VLB1T)
125GTR (VLN2T)
125GT (VNL2T)
125TS (VNL3T)
150 Super (VBC1T)
125 Super (VNC1T)
125 T5 (VNX5T)
150 (VBA1T)
150 (VBB1T)
150 (VBB2T)
125 (VNA1T)
125 (VNA2T)
125 (VNB1T)
125 (VNB3T)
125 (VNB4T)
125 (VNB5T)
125 (VNB6T)
https://blog.scooter-center.com/wp-content/uploads/2018/02/vespa-lml-motor-7675678_2.jpg
526
700
Heiko Lepke
https://blog.scooter-center.com/wp-content/uploads/2016/04/Scooter-Cejnter-SC-Logo-2016.png
Heiko Lepke
2018-02-28 16:35:01
2018-04-26 11:41:11
Get the last LML engine housings for Vespa now - discontinued