Vespa GTS conversion, tuning -> Vespa GTS custom scooter
Before we get to the Vespa GTS conversions come, first a little review:
The Vespa has been a collector's item since the 50s, which the owner has always liked to individualize. To convert the Vespa, accessories and add-on parts such as mirrors, crash bars, speedometers, badges, anti-theft devices, decorative strips, heated handles, child seats, pillion seats, fuel displays and chrome accessories from manufacturers such as Ardor, Appel, Ulma and Vigano were installed.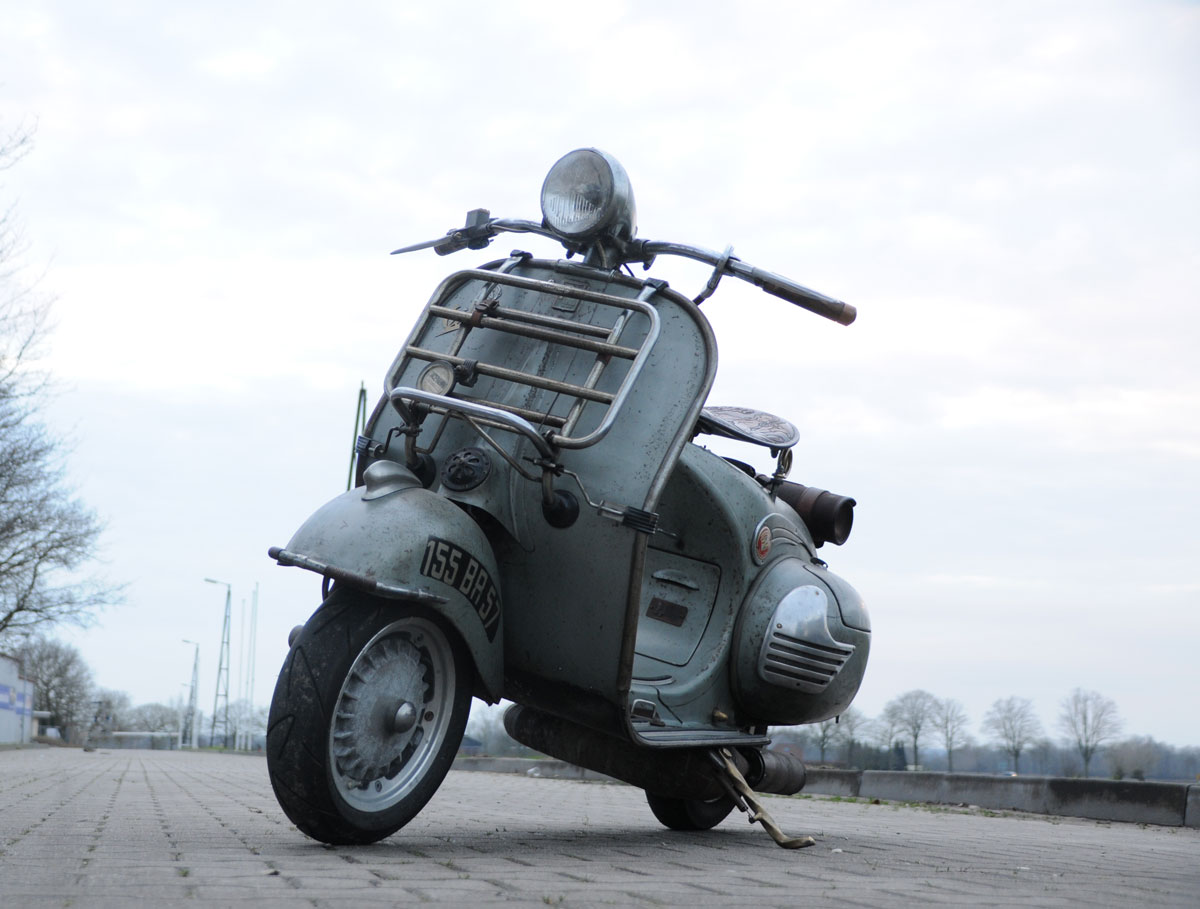 In the 80's
In England germinates with Mods are available as assessories. scooter boys a movement that soon spills over the canal to Germany and the rest of Europe and will cast its spell over it.
Vespa / Piaggio itself now offers a range of accessories.
There's no arguing about taste! Some people went overboard in the wild 80s and screwed everything on their Vespa that the aftermarket had to offer.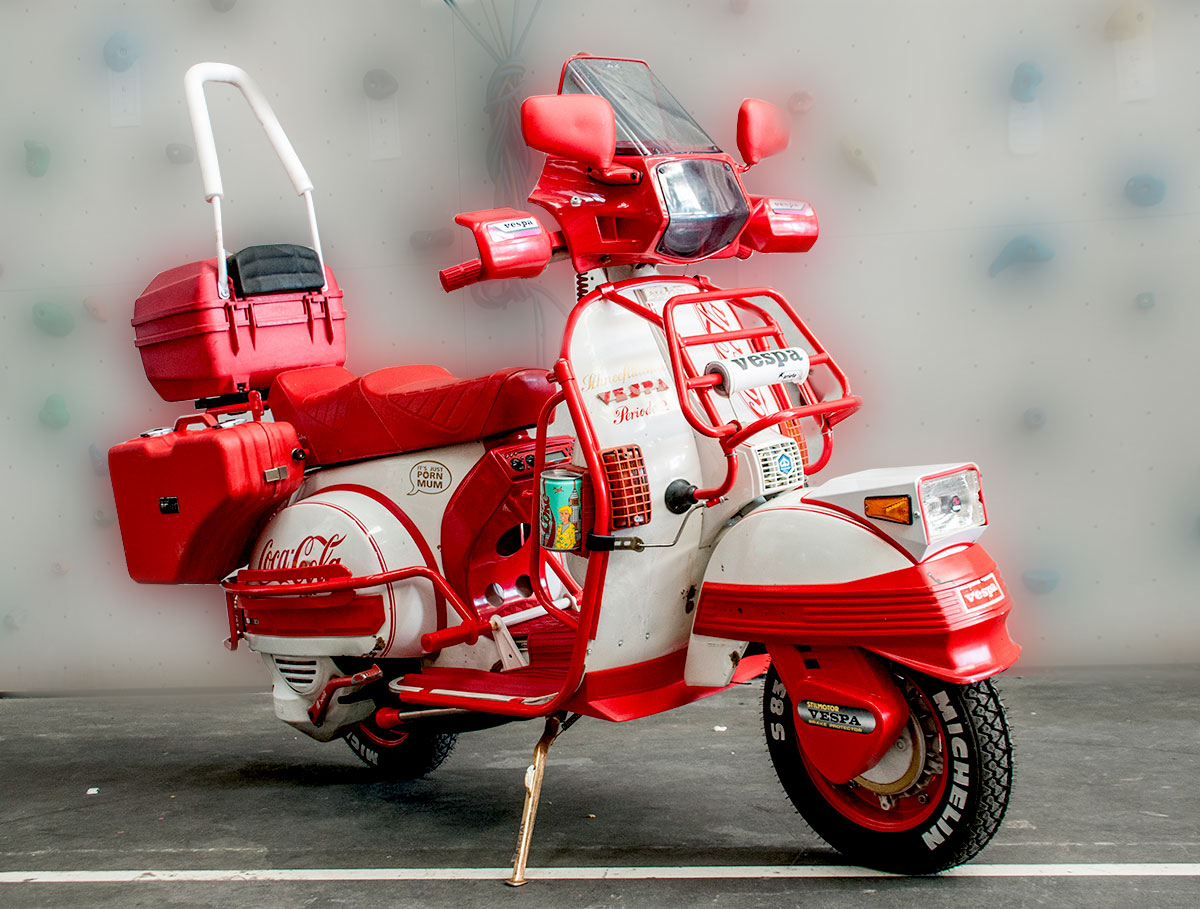 The 90s and 2000s
That is the birth of the Scooter Centers: 1992. The Scooter scene is at its zenith in Germany and Europe. Thousands meet on the weekend Scooter meeting = scooter runs, such as the SCOOTERDIVE and many other events to celebrate the vehicles, the music, yourself and your lifestyle.
Find it "Custom shows"Instead, in the off-season these are independent events with a previous and / or subsequent party = nighter. The elaborately converted scooters will be exhibited at the Scooter Customshow and assessed by a jury. The biggest custom shows were, for example, in Hamburg, Munich or the Extravaganza in the Ruhr area and, of course, since 2008 ours too Scooter show in Cologne.
Today: 2020 Modern Vespa models
To date, not much has changed: The modern Vespa is more powerful and engine tuning may become a bit more complex due to the introduction of digital engine control, but the urge for individualization and optimization of the Vespa is unbroken. Not without reason: Vespa has regularly topped the motorbike sales list for years, so of course you want to stand out from the crowd! And the chassis of the Vespa GTS, for example, has significant potential for optimization. Not for nothing, our bgm PRO shock absorbers are for them GTS test winner and bestsellers. LED indicators and LED headlights for GTS & Co are also often converted.
In our Vespa shop we offer you with our own brands bgm and MOTO NOSTRA and selected accessories and tuning suppliers (such as Piaggio, bgm, Moto Nostra, Malossi, Polini, Remus, Scorpion, Akrapovic, Leo Vince, HD Corse, Power 1, a wide range of tuning and accessories for your modern Vespa GTS, Primavera or Sprint .
Do you already know our specials catalogs?
Then as now, there are of course stages of customization. You can do a lot yourself, but if you are talking about an extreme custom project, you are well advised to turn to a professional. As for example with our partner Cafe Racer 69 from Berlin:
Cafe Racer 69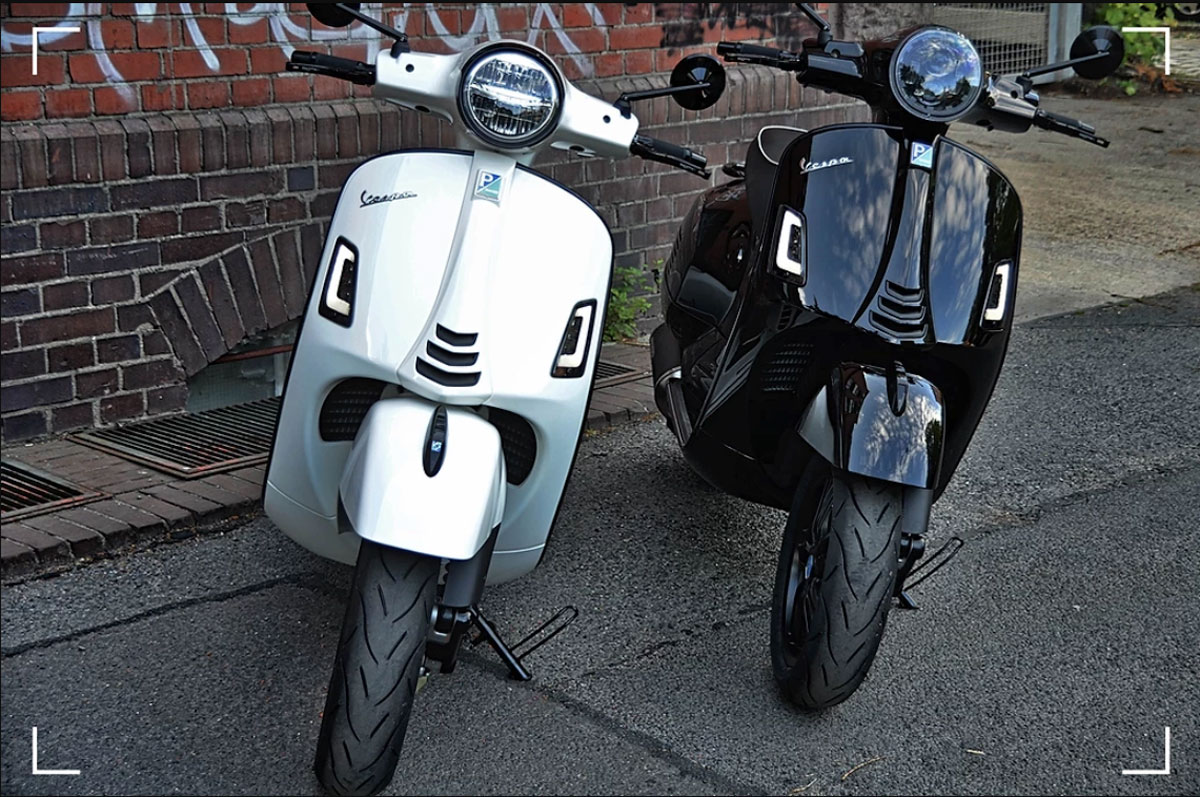 The Cafe Racer 69 in Berlin do you get one professional customization of your Vespa. As already said, even with the current Vespa models, be it 125 or 300, Vespa GTS or Vespa Primavera & Vespa Sprint, there is still a lot of room for optimization in the series state. Also because the creative Berlin team of us with, for example bgm & Moto Nostra is supplied, you can assume that only the highest quality parts will be installed!
Engine power,
Drive,
Suspension
Brakes,
Painting
etc.
The Berliners also offer queens Optic tuning Your Vespa on. The purely visual changes can, for example
Powder coated
Attachments,
Moldings,
Fittings,
benches
etc.
Vespa GTS tuning with TÜV
Our bgm PRO Shock absorber for Vespa GTS are of course TÜV approved. For changes to the chassis, brakes and rims, adjustments to the axle mounts are sometimes necessary. This adjustment for a roadworthy seat without track offset and adjustment of ABS & ASR generally require a technical approval by an expert (DEKRA, TÜV) and can be done at Cafe Racer 69 be made.
Vespa GTS Custom Scooter Compilation
In this video you will find the ultimate Vespa GTS Custom and Vespa GTS conversion compilation. Get inspired!
Best Vespa GTS Custom TOP Vespa GTS Conversion Vespa GTS 300 Tuning Compilation
Vespa GTS 300 Tuning and Vespa GTS Custom Scooter by Cafe Racer 69
https://blog.scooter-center.com/wp-content/uploads/2020/07/Vespa-GTS-Custom-Tuning-Umbau.jpg
1080
1920
Heiko Lepke
https://blog.scooter-center.com/wp-content/uploads/2016/04/Scooter-Cejnter-SC-Logo-2016.png
Heiko Lepke
2020-07-17 10:47:18
2020-07-20 12:03:28
Individual Vespa GTS conversion, tuning - Vespa GTS Custom