Polini 133 racing cylinder available!
This is a classic one Polini racing cylinder for the Vespa Smallframe Models PV / ET3 / PK / XL / XL2 models, except PK automatic.
This tuning cylinder is the revised version of the legendary 133 Polini and offers a plug & play high durability with a lot of torque.
But the cylinder also offers a lot of potential for ambitious tuning of your Vespa beyond the 20PS. If that's not enough: Polini 152 Big Evo cylinder
The main innovation of this "racing version" compared to the classic 133 relates to the cylinder head, which is made of cast aluminum with a high silicon content. In addition, the head has additional cooling fins on the underside. This means that the heat is dissipated much better, both from the cylinder itself and from the head. The compression was also slightly adjusted.
The copper seal not only conducts heat better, it also contributes to a significantly better seal between the cylinder and the head.
The layout of the cylinder is unchanged and is determined by the six transfer ports. The ASSO piston is made of die-cast, which gives it very good durability and low weight.
With a 57 mm bore, 51 ccm with a 130 shaft and an impressive 54 cc with a 138 shaft are available.
Racing cylinder of the K5 in the ESC
The cylinder is used unchanged in the ESC (European Scooter Challenge) in the K5 class very successfully in races and has "put" around 15 hp.
We already had this cylinder, extremely revised, with 30 HP on the test bench!
Instructions Polini 133cc
Polini-133-Racing-Cylinder-PI357
140.0050 / R | | 1400050R | P1400050R
Vespa (Piaggio) Vespa 90 (V9A1T)
Vespa (Piaggio) Vespa 125 New (VMA1T)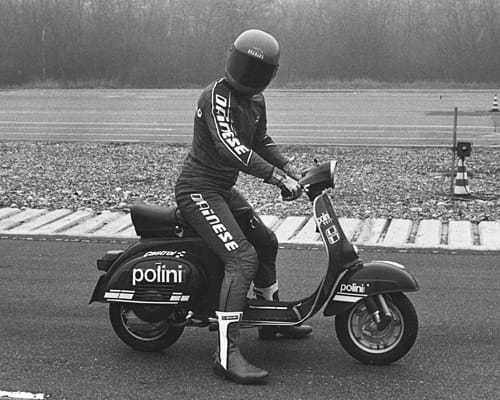 This is the original press release from Polini about the cylinder:
POLINI CYLINDER KIT FOR VESPA 125 PRIMAVERA ET3 WITH NEW CYLINDER HEAD:
RACING GENERATION Polini Motori has revised the popular cylinder kit for the Vespa 125 Primavera ET3. This is now also available as a RACING version with a specially developed cylinder head for better cooling. The cylinder head itself is also available individually. TECHNICAL DATA: The cylinder is made of cast iron with lamellar graphite. As a result, it has a self-lubricating effect and is very resistant to mechanical loads. This reduces the working temperature and prevents possible loss of performance. The cylinder has a 57mm bore and 6 overflow channels. The piston is made of chill cast light metal with a high silicon content and has two "S10" chrome-plated piston rings. The aluminum cylinder head is equipped with two fins, which dissipate the heat better. Cooling and compression ratio are optimized. The new copper seal prevents gas from escaping between the cylinder and cylinder head and facilitates heat exchange.
https://blog.scooter-center.com/wp-content/uploads/2021/07/zylinder_polini_133_racing_vespa-smallframe.rennzylinder_pv125_et3_125_pk125_p140005_1.jpg
576
600
Heiko Lepke
https://blog.scooter-center.com/wp-content/uploads/2016/04/Scooter-Cejnter-SC-Logo-2016.png
Heiko Lepke
2021-07-15 14:53:56
2021-07-16 13:56:01
Polini 133 Racing cylinder for Vespa available Racing cylinder for Vespa Smallframe PV / ET3 / PK / XL