This is Casa Lambretta - Part 1 What or who is Casa Lambretta?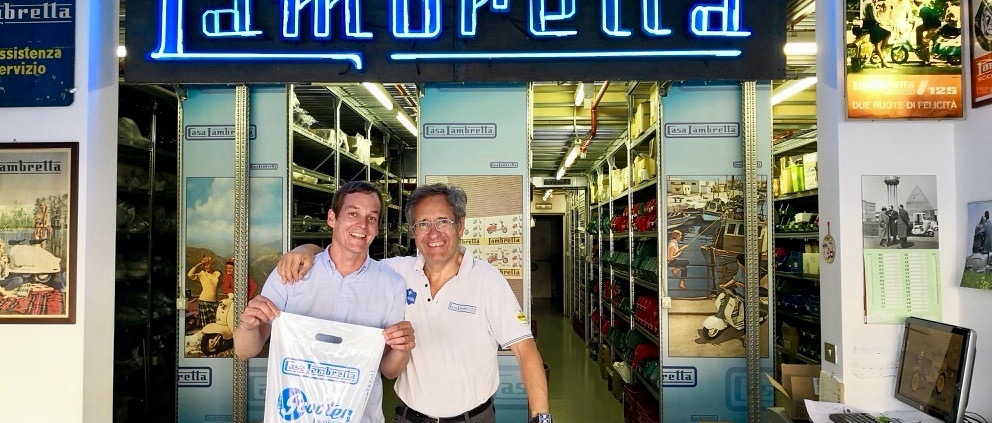 Part 1: What or who is Casa Lambretta?
You can answer that relatively matter-of-factly. Casa Lambretta will Founded in 1980 by Vittorio Tesserato improve the supply of spare parts for the Lambretta. At a time when the Lambretta is being treated like an absolute stepchild, and not just in Italy. Almost forty years later the Lambretta is more popular than ever before and Casa Lambretta has made the range so broad and deep that the spare parts supply is better than ever. From parts for the Model A to those for the dl 200, almost everything is available today: Casa Lambretta shop
Most important parts supplier worldwide
Casa Lambretta is much more than the -probably- the world's most important parts supplier for the Lambretta. But we'll get to that another time.
You will find Casa in Rodano, part of the metropolitan city of Milan (formerly the province of Milan). Not far from Linate Airport and approximately 15 minutes from the Centro Studi and the former Innocenti factory premises in Lambrate.
And here, in his origins, lies one of the reasons why Vittorio, fortunately for us, focused so much on the Lambretta. This is how Vittorio tells us:
"I want to make one thing clear, I'm not a scooter racist. I like you all Vespa, ISO, Lambretta, Moto Guzzi, Gilera. These are all important and beautiful contemporary witnesses of a bygone era, from whom one can learn a lot. However, after a few years I had to commit myself for organizational reasons. And since the Lambretta was born in this region, it was my homeland's reputation to choose the Lambretta. "
Vittorio Tessera, Casa Lambretta
Casa Lambretta moved into the current business premises in 2010. Shortly afterwards we visited him in order to bunker parts before the Italian summer break and to help our then and now current Julia with the acquisition of her first Lambretta. A wonderfully beautiful SX 150. We reported here .
Prodotto in Italia
Meanwhile, Vittorio is in the building 800 square meters of his parts warehouse, the workshop for the three permanent restorers (Mario, Maurizio and Fabio) and his new study. 95% of Casa Lambretta parts are made in Italy. The small percentage of purchased parts is usually marked with an A (= Asia) in Vittorio's parts lists in the Origin category. Vittorio's wife Orietta keeps track of the orders from the Casa Lambretta concessionaires. Greetings to everyone!
Museo Scooter & Lambretta
This is located above the business premises Museo Scooter & Lambretta. We already reported here -> Casa Lambretta Museum, but will also start again here and present the museum, its concept and the exhibits in it in detail.
Casa Lambretta Concessionaire Germany
Since the Eurolambretta 2003 that is Scooter Center of the Casa Lambretta concessionaire Germany and we fondly remember how we, with our friends Roberto Graupner and Markus Fröschen (also best regards!), wrapped up the deal with Vittorio in Assisi. A long-term and intimate friendship has grown beyond the pure business relationship and the love for Lambretta.
Casa Lambretta shop
You can find all of ours here Casa Lambretta parts:
Casa Lambretta catalog
At this year's Eurolambretta in Spain, Vittorio presented the 2018 Catalogo ricambi 2018:
https://www.scooter-center.com/products/KATCASA18
There you can also download the catalog as a pdf.
All Casa Lambretta parts
Should you ever need a part that we have not yet listed, simply write an email to lambretta@scooter-center.com and we will make sure that we get it for you as soon as possible.
So it goes on
In the next few episodes we want to show you the development of the quality of Casa Lambretta parts using a few examples. Introduce the museum and the exhibits in detail and take a look at the beginnings of the Casa Lambretta company. Above all, on how Vittorio just shortly before recovered important documents and scooters from the factory.
Get around betta, the Lambretta!
https://blog.scooter-center.com/wp-content/uploads/2018/11/25_teacher_and_student.jpg
744
992
philipp
https://blog.scooter-center.com/wp-content/uploads/2016/04/Scooter-Cejnter-SC-Logo-2016.png
philipp
2018-11-06 12:43:24
2022-04-07 17:27:25
This is Casa Lambretta - Part 1 What or who is Casa Lambretta?