Vespa Alpine Customshow 2019
Saddle up the Vespas! The big Vespa-Alpen-Customshow 2019 at the Meisinger dealership
Even before the snowy winter has passed, the typical Vespa rattle, soaked in petrol and nostalgia, fills the Tyrolean Alpine region on March 2, 2019. The 4th edition of the VESPA-ALPEN-CUSTOMSHOW 2019 in the Meisinger car dealership in Völs invites you to a big scooter festival and not only triggers acute spring fever among die-hard "Vespisti".
While most Vespa fans are still solitary tinkering with their scooters in their garages, the starting signal for the new Vespa season will be given at the Meisinger dealership on March 2nd. The perfect time to meet like-minded people and check out the latest modifications on the dynamometer.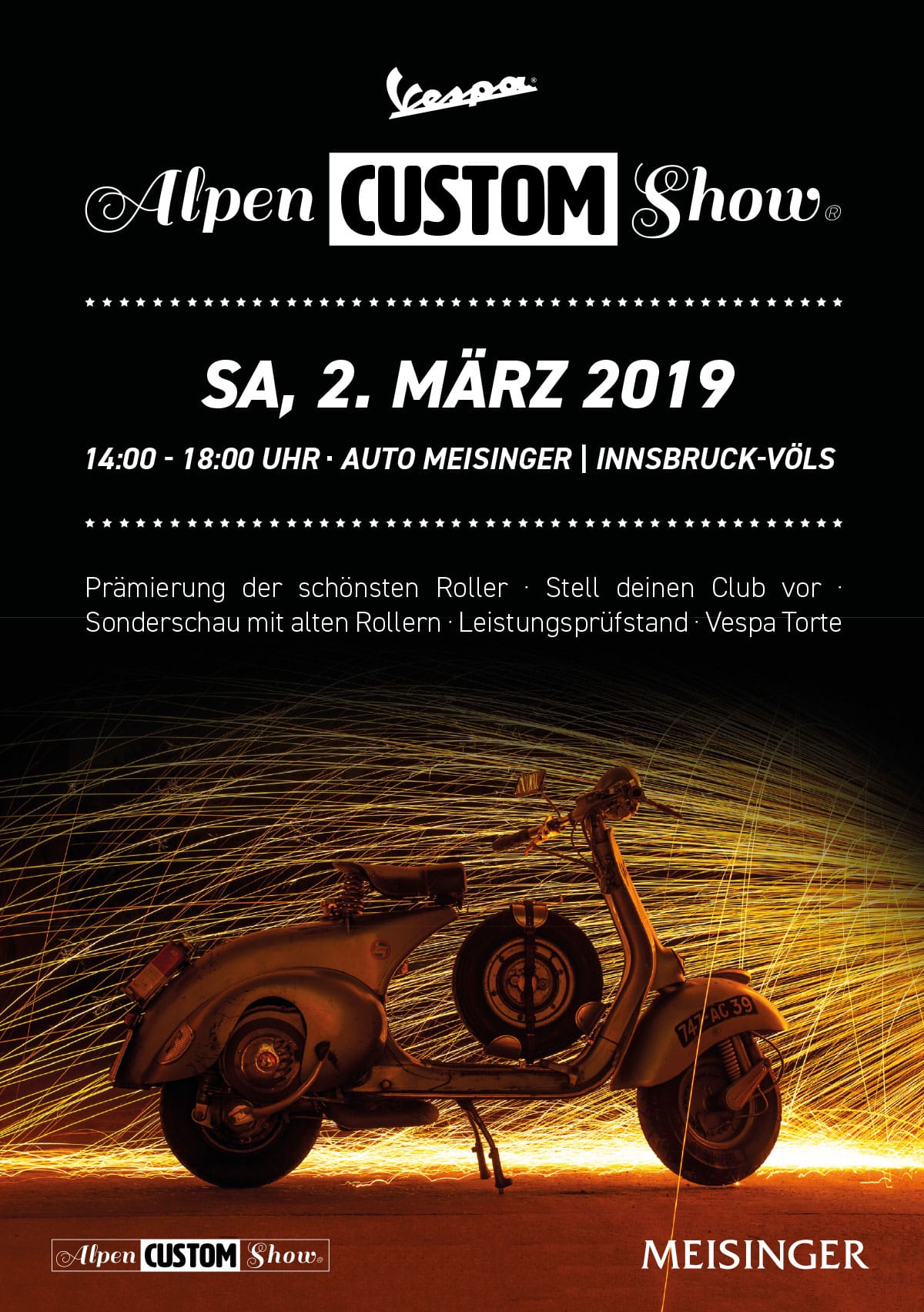 EVERYTHING THAT MAKES THE VESPA HEART BEAT
In the Vespa epicenter Völs - the Meisinger car dealership - more than 100 different exhibitors will be present on this day, offering everything from Vespa to Lambretta that delights Italian scooter lovers. In addition to numerous accessories and interesting technical discussions with experts from Austria, Germany, South Tyrol and Switzerland, the idea of ​​competition is not neglected.
WHO'S THE FAIREST OF THEM ALL?
Overall, at the VESPA-ALPEN-CUSTOMSHOW 2019, a winner will be determined in 20 different categories and the most beautiful, oldest and fastest Vespa will be given a due award. If you want to take part in the competitions, you can register by 15. Register directly by email to vespa@meisinger.at on 02. And if you just want to drop by on your scooter, you are of course cordially invited.
The large workshop in the Meisinger dealership, where next to
interesting tours,
helpful tuning workshops,
a Vespa cinema and a
professional Vespa photo shoot too
the dynamometer is freely available.
So if you want to wake your piece of jewelery out of slumber after the harsh winter, you can put your scooter through its paces on site.
BUY AND SELL
In keeping with the relaxed "scooter flair", the VESPA-ALPEN-CUSTOMSHOW 2019 also features a large Vespa flea market. So if you want to sell Vespa parts privately, you can use the Meisinger dealership as a sales platform on March 2nd. Please register by February 15, 02 at the latest to vespa@meisinger.at.
The 4th VESPA ALPINE CUSTOMSHOW 2019 at the Meisinger dealership.
The must-attend event for all Vespa fans.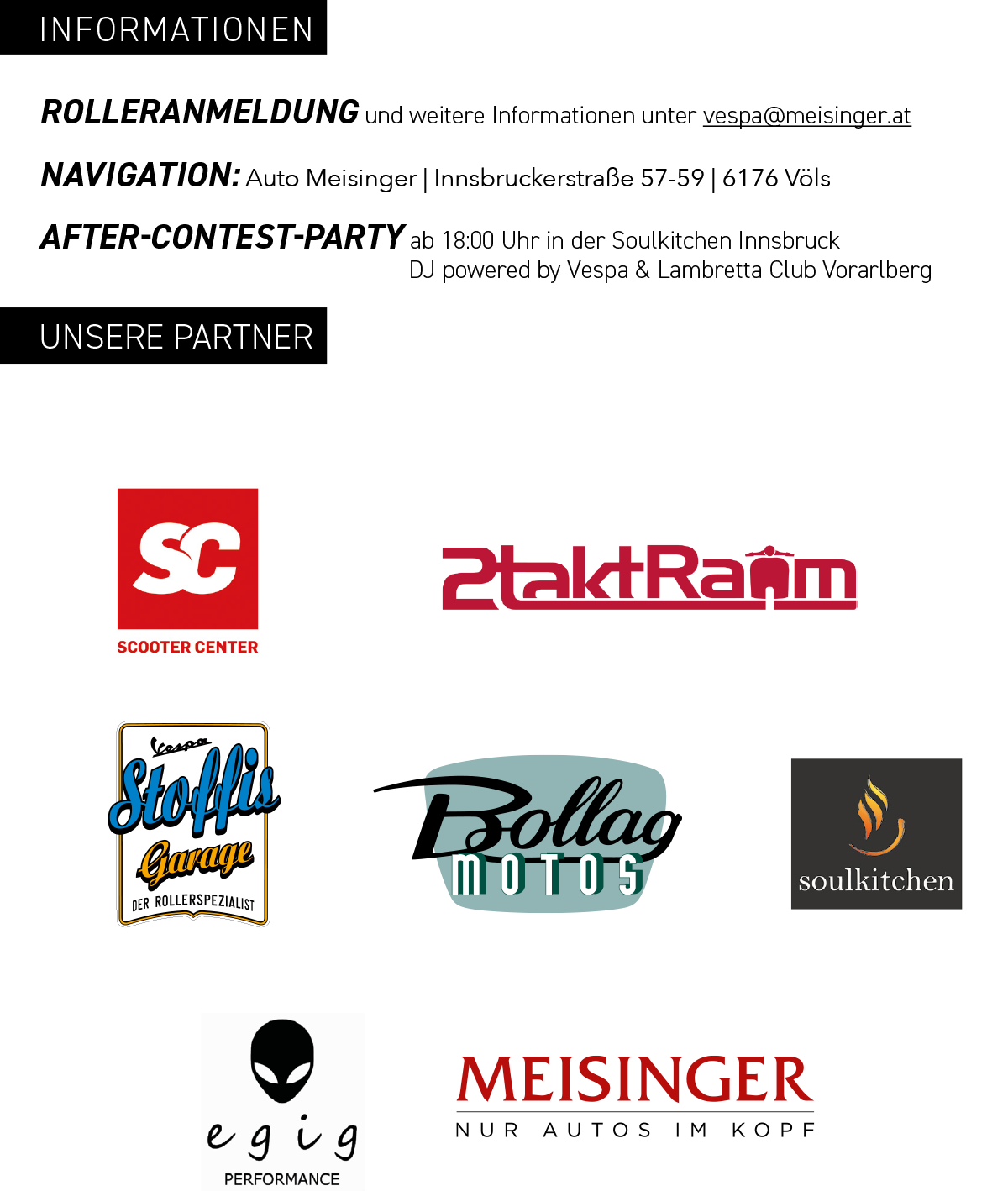 https://blog.scooter-center.com/wp-content/uploads/2019/01/customshow-flyer1.jpg
1703
1200
Heiko Lepke
https://blog.scooter-center.com/wp-content/uploads/2016/04/Scooter-Cejnter-SC-Logo-2016.png
Heiko Lepke
2019-01-16 10:56:03
2019-01-16 10:56:03
Vespa Alpine Customshow 2019