Scooter Center Open Day 2021 con casi 1.500 Vespistas y Lambretteros
Scooter Center Open Day 2021 - 1500 Vespa & Lambretta Scooterists
Un day para los amigos, donde los amigos
Este no es uno de esos eslogans vacíos de Marketing, si no ¡la esencia de nuestro Open Day!
Nosotros mismos vivimos la cultura de andar en scooter e intentamos permanecer en contacto con la escena y good parte de esta, son las scooters Mismas, for the intense lives and hearts accompanied by this movement of more than 30 years.
Mejor aún fue Finderarnos finalmente de nuevo con gente normal y habenrar amigos que están igual de locos por las scooter como nosotros.
y por ello les queremos dar las gracias! Gracias que se tomaron el día para hacer de el, una experiencia inolvidable.
Open Day -2021 - The Scooter Center Team says thank you!
¡Finally gente normal!
¡La escena estuvo a todo dar!
Sabemos todos lo que fueron estos los últimos meses con las restricciones y casi ningún evento, por lo que sabíamos que muchos de ustedes estaban esperando el momento de reencontrarse, pues nosotros mismos estábamos igual, por lo de que tuvimos el que higiene, duplicando esfuerzos. Incluso en las bebidas y comida, y aún así, ¡hizo falta! por lo que tuvimos que hacer pedidos extra… ¡varias veces!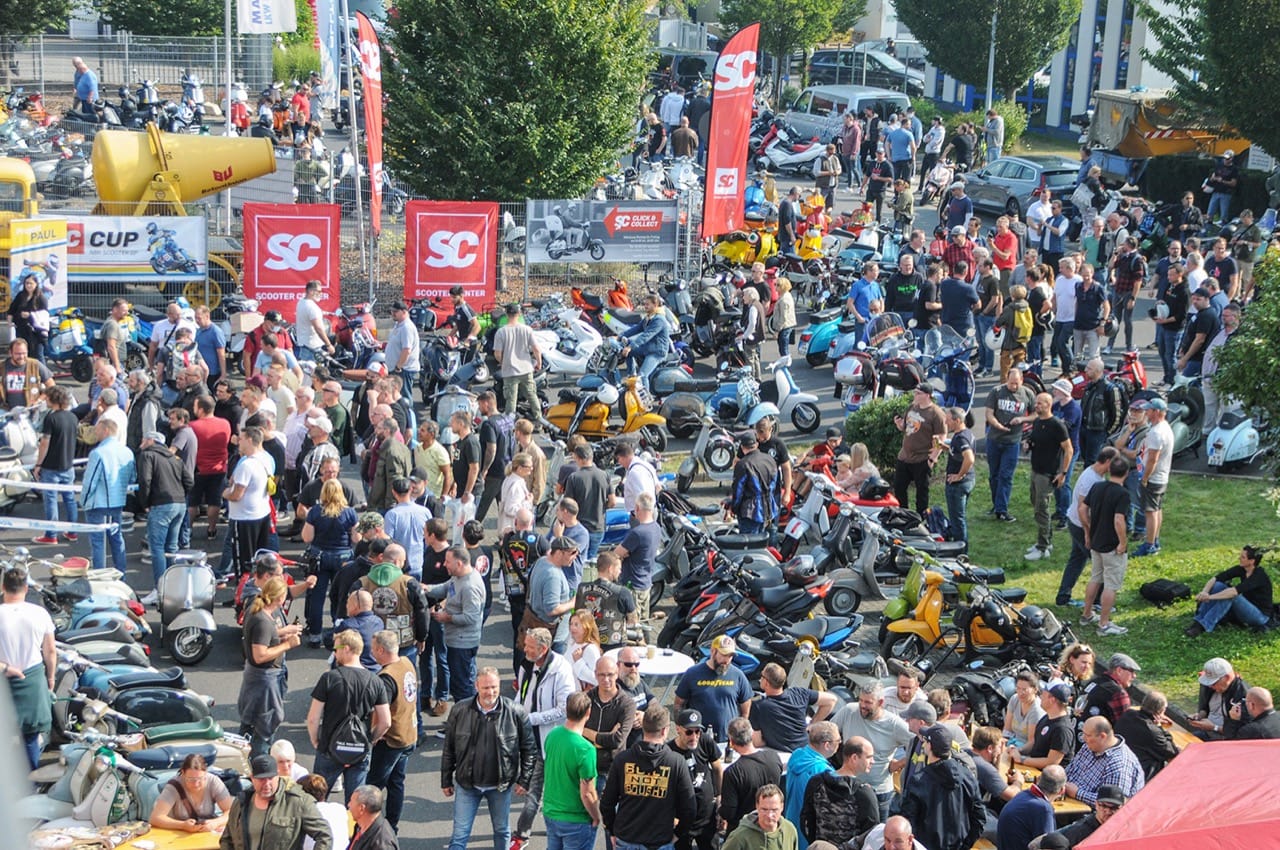 Nuestro banco de pruebas, donde estaban Alex y Uwe, también funcionó muy bien; with the excepción de un breve descanso, ¡hubo una pruebas tras otras!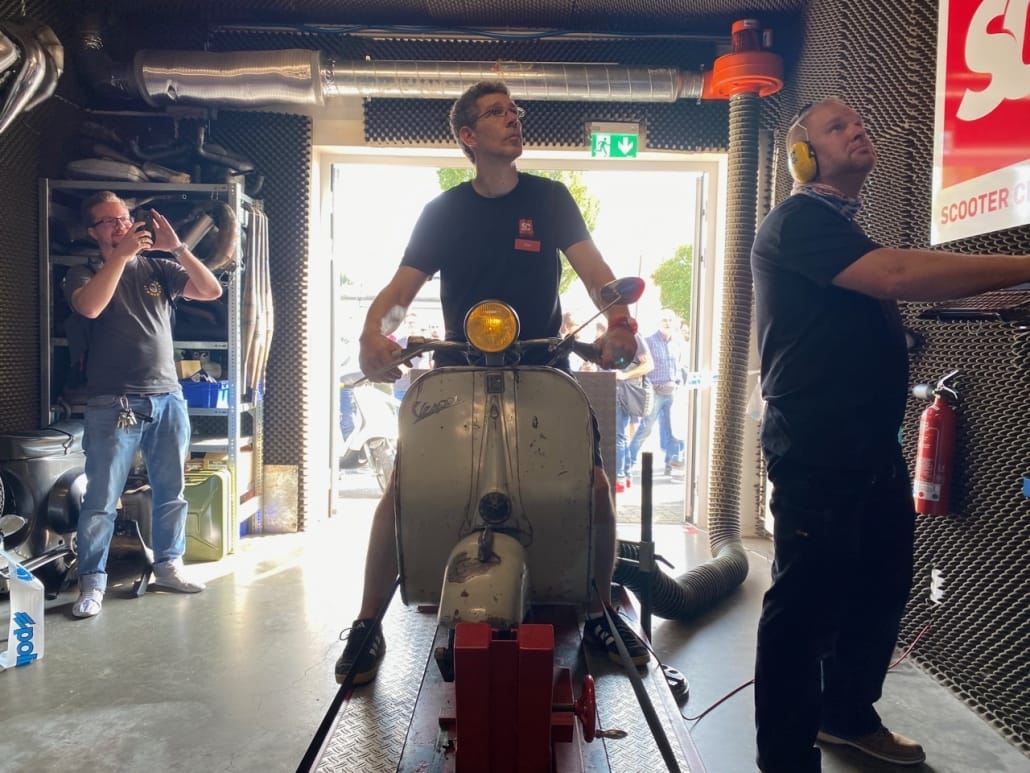 Donaciones para los niños con cáncer con un monto de 6.179,80 euros
Markus Mayer is here this year with the end of the Gentleman Giro 2021 and his patches, buttons and buttons together with several galletas, posters and keys for cambiados por donaciones, alcanzando la suma de 1.179,80 Euros!
Las institutions para niños con cáncer se alegran de vuestra insaciable sed y hambre pues hemos redondeado la totalidad de los ingresos de nuestra gastronomía a 5.000 euros, por lo tanto, podemos transferir 6.179,80 euros a la Fundación Alemana versus el Cáncer Infantil. ¡Estamos muy contentos y orgullosos de ustedes!
International exhibitors and visitors
All lado de nuestro mercado de partes y repuestos, que este año fue gigante, nos acompañaron también stands de todos los tamaños y nacionalidades, desde Alemania, cómo también de Italia, el Tirol del sur y la Toscana. Muchas gracias por venir con ¡los asombrosos productos que fabrican!
M&R Maletas especialmente diseñadas para Vespa, hechas a mano (I)
Mercado de parts and Vespas de Segunda Garage Rosso (I)
The Mercado de repuestos de Bernd
The mercado de repuestos de Hubert D.
The mercado de repuestos de Herbert S.
El mercado de repuestos de Milan design writer
El mercado de repuestos de acki and mika
Markus Mayer Gentleman Giro
évoRetrofit electric kits for Vespas clásicas
Crazy Monkey Development & Savage Scooters
Tom Super Lui (I)
McCloudt's Originals
The Mercado de Repuestos de Kölle
The DeZonk repuesto store
Vespa scooter paradise - Colonia
Christian S. Rollershop Zirris Scoot-Devils
Èvo Retrofit por ejemplo tuvo más de 60 pruebas de manejo con sus testbikes electrónicas, luego les mostraremos de esto un poco más pues Maryzabel y Heiko tuvieron la oportunidad de manejarlas y hacerles una entrevista de como electradas funcas funcas funcas.
¡Espera pronto el video!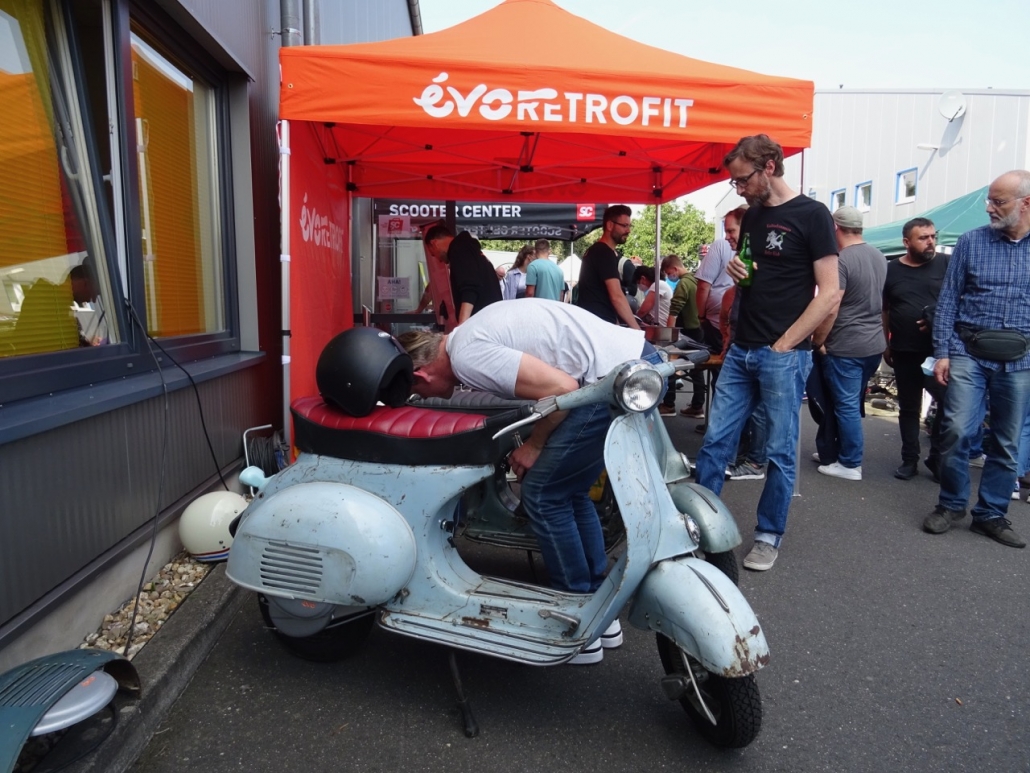 New visitates, trajeron una variada muestra de Vespas, Lambrettas, Vespas más modernas como la GTS, Primavera, etc. ¡simplemente genial!
Podemos mencionar clubs y visitantes de:
Austria
Luxembourg
Belgium
Netherlands
Saludamos a los siguientes clubs que vimos:
Viennese rogue
Flatliners
Filthy & Sly
Toast riders
Minus screwdriver
Vespa Club Roude Leiw Letzebuerg
Vespen Nest Düren
Vespa Club RheinSchalter Cologne
Tin vespa Vespa joy
Vespa Club Mainz
ONGOING
Kulturbanausen Roller Club Rhineland
Vespa cowboys
Scoot Devils
Blues SC Munich
Vespa Club Bogota
De seguro nos hizo falta alguien, si es así, por favor comments!
Nuestro Highlight personal
Aparte de las caras familiares y amigos, nos alegramos por ver una en especial, los amigos de ROLLERSHOP - Zirri-Smallframesee El sueño de cada jóven alemán!
Acá también tenemos una super historia que contar y qué tu no te puedes perder.
Pronto more info acá en the blog.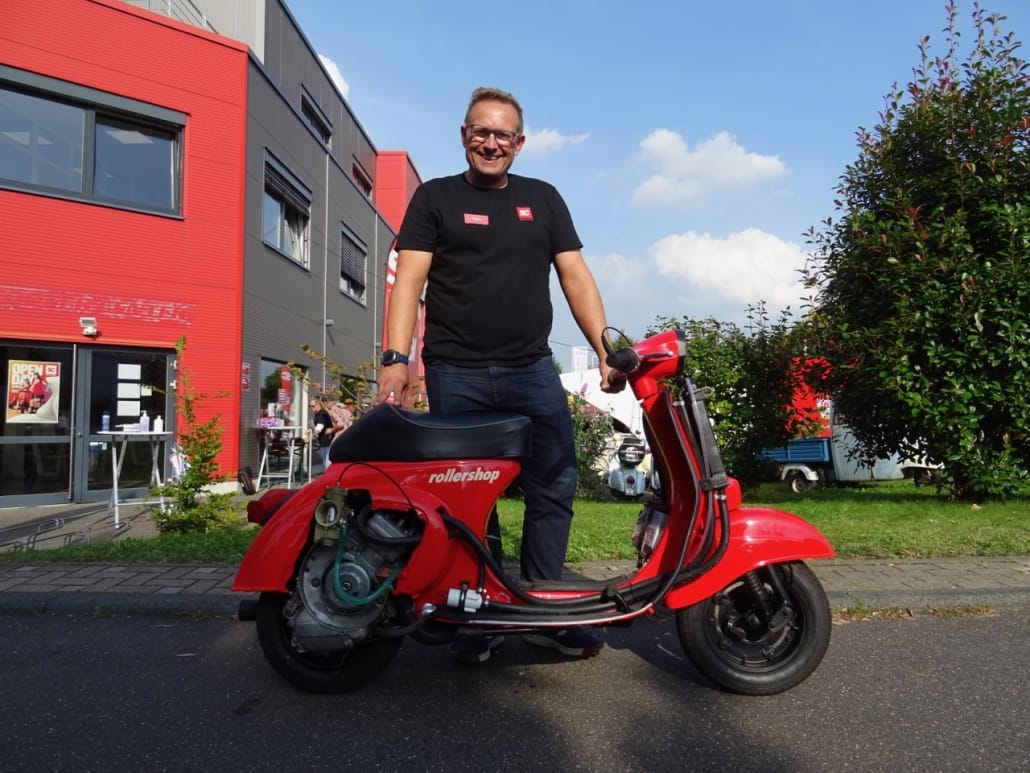 Photos Scooter Center Open day 2021
https://blog.scooter-center.com/wp-content/uploads/2021/09/Aufkleber_SC-Open-Day-2021_80x80.jpg
669
669
Maryza
https://blog.scooter-center.com/wp-content/uploads/2023/08/SC_BLOG-300x69.png
Maryza
2021-09-22 14:21:15
2021-09-22 14:21:15
As for the Open Day 2021 Scooter Center