Big Evo racing cylinder POLINI Alu 152ccm / Evolution membrane Vespa Smallframe
The new Polini BIG EVO! Here we have the classic one 133 Polini racing cylinder presented. If that's not enough for you, there is now one Polini BIG EVO for the Vespa Smallframe. This modern racing cylinder means full 152cc for the original series engine housing the Vespa Smallframe-Models such as V50, 50N, PV, ET3, PK etc. So you don't need an extra motor housing!
30HP + tuning set for original engines
With a Ø60mm bore and 54mm stroke, as well as very ambitious control angles straight out of the box, the Polini is a serious opponent for the racetrack.
Based on the very successful Polini EVO 133, Polini has put together a great package that is designed for performance above the 30HP was created!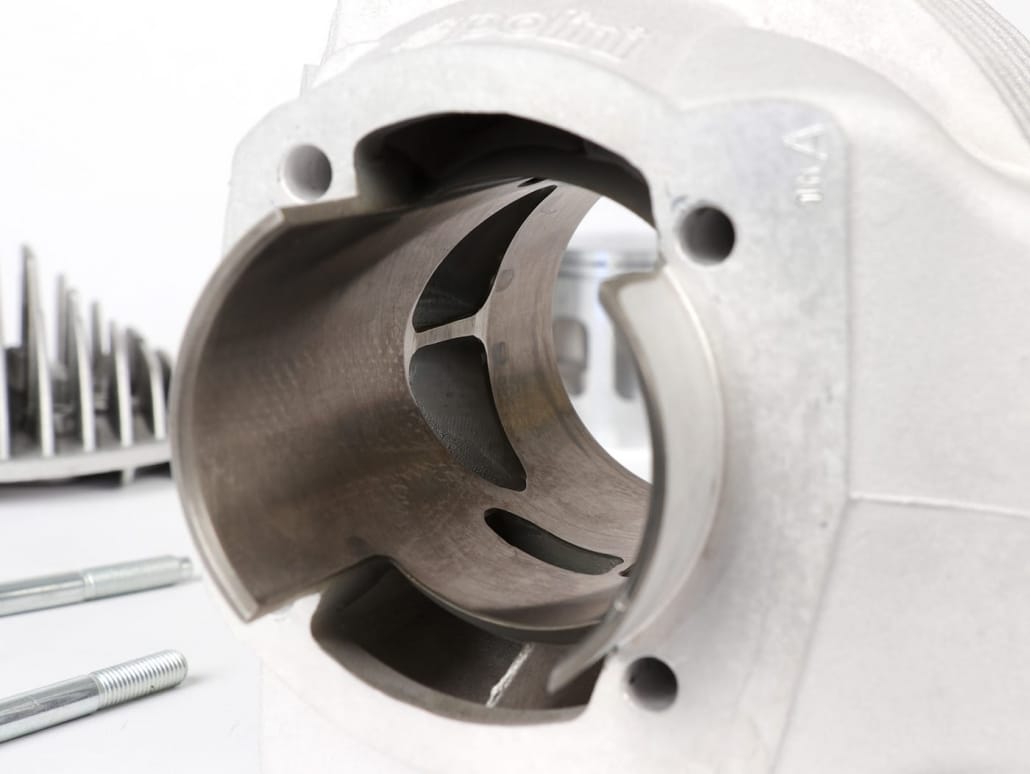 Data of the Vespa Polini tuning kit
Bore: Ø60mm
Hub: 54mm
Displacement: 152cc
Crush dimension: 1 ± 0,1mm
Connecting rod length: 105mm
Verdichtungsverhältnis: 14,2: 1
Piston running play: 0,07 - 0,08mm
Outlet shape: two-part
Outlet angle: 194 °
Overcurrent angle: 130 °
Preignition: 20 °
Spindle dimension left crankcase: Ø89,5 x 22,4mm
Spindle dimension right crankcase: Ø89,5 x 15,8mm
INTAKE FITTING
The Polini kit contains the complete intake tract, consisting of:
large membrane inlet, intake manifold and connecting rubber. The 6-flap membrane is equipped with 0.4mm thick plate material. The intake manifold is intended for use with a Ø34mm carburetor cross section (carburetor connection width of the rubber is Ø44-45mm). Modifications in the area of ​​the frame cutout for the carburetor may be necessary.
PISTON
The Polini tuning set for Vespa relies on the well-known Asso piston of the Polini Aprilia AF1 kits, like the ones from FALC Racing is used in its 153cc cylinder (we can offer the very high-quality Ø60mm Wössner piston from Overrev very much).
CRANKSHAFT
Any shaft with a stroke of 54mm and a connecting rod length of 105mm can be used as the crankshaft.
The connecting rod length not only benefits the better connecting rod ratio, but also reduces the necessary housing adjustments for the overcurrent channels to a minimum.
SPINDLES
The motor housing must be spindled with a 54mm stroke for the required crankshaft.
CYLINDER HEAD
In addition to the conventional screw connection, the cylinder head is screwed onto the continuous (longer, enclosed) cylinder stud bolts with 4 screws.
Recommended accessories / setup:
Crankshaft: P2100070 or comparable (54 / 105mm)
Exhaust system: P2000416 or similar
Ignition: P1710554 or similar
Dynamic ignition timing (with ignition P1710554): 4,8mm in front of the upper one
Piston dead center at 4500 rpm
Spark plug: NGK BR9EG or comparable
CONCLUSION:
Very interesting alternative for normal engine cases to the often unavailable FALC Racing cylinder. If you are looking for performance in the range well above 25PS, you will find it here!
Installation instructions Polini racing cylinder
Polini-BigEvo-152-racing-cylinder-PI776
Fits on the following Vespa Smallframe:
---
Vespa (Piaggio) Vespa 90 (V9A1T)
Vespa (Piaggio) Vespa 125 New (VMA1T)
https://blog.scooter-center.com/wp-content/uploads/2021/07/Polini-152-vespa-big-evo.jpg
451
600
Heiko Lepke
https://blog.scooter-center.com/wp-content/uploads/2016/04/Scooter-Cejnter-SC-Logo-2016.png
Heiko Lepke
2021-07-16 13:54:49
2021-07-16 13:54:49
Polini BIG EVO racing cylinder Polini 152cc for Vespa Smallframe PV125 / PK125