Vespa & Lambretta Racing: 5th Challenge Scootentole in Mirecourt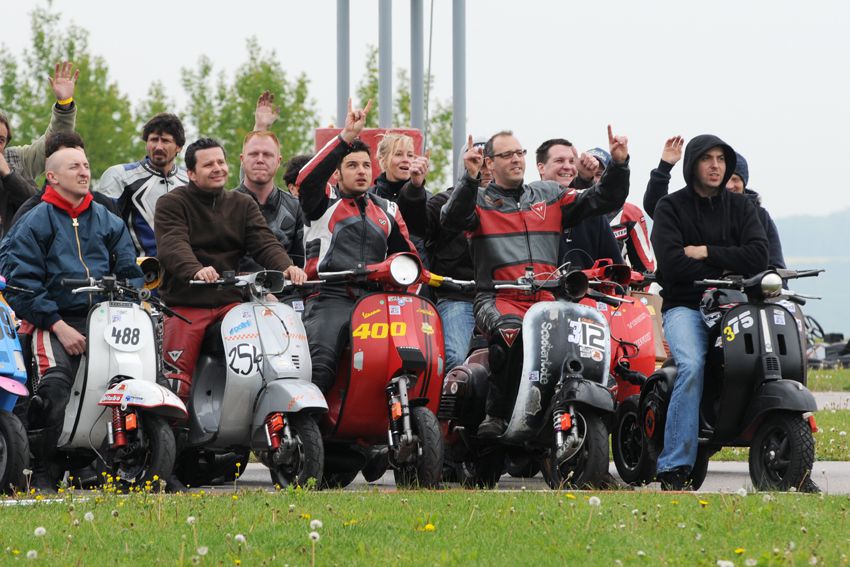 5th Challenge Scooter Tole
Circuit de Mirecourt, 13.-16. May 2010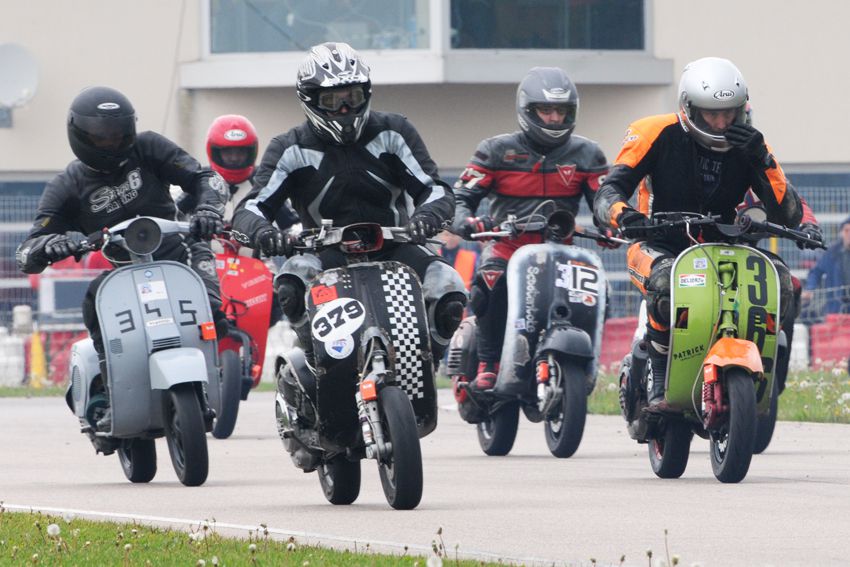 On to 5th Scootentole Challenge, this is a racing event for classic Vespa and Lambretta scootersorganized by the French forum "scootentole.org".
Up to now we had only heard of the three ice saints once, but what exactly they could mean, we should find out this weekend ...
Than SCOOTER CENTER Team Thursday morning direction France set out, the weather forecast was rather mediocre as the temperatures were very cold. After a 5 hour drive we reached the shortly after Nancy beautiful kart track in Mirecourt. After a short waiting time - until the supermotor drivers had cleared the space - we set up the SCK stand with our mobile dynamometer. thanks to MOTOREX tent and gas burner was the first evening of the ice saints with 5 degrees outside temperature fortunately to endure.
Free driving was on the program on Friday. With an entry fee of just 14 euros from 12:00 to 19:00, this is a very attractive price for anyone who wants to train or simply drive on a racetrack.
Our on-site test stand was regularly used by various scooter drivers with their Vespa or Lambretta scooters to look for or find lost horsepower. ;O)
At our SCK stand, too, there was always a good rush of those who - despite the winter-like outside temperatures - attended the event. In addition to spare parts for the racing scooters, they were the most sought-after items Vespa bags and our new ones Fastback racing seats for the Vespa.
Thanks to the high number of German and Austrian riders taking part in the actual race on Saturday in 3 different categories, it was possible to speak of a success of this "Scootentole" event. The smooth running on all days, the very good hygienic conditions, free electricity and a lot of nice people resulted in a cold but nonetheless perfect racing weekend.
NEXT year again - hopefully not on the three ice saints! ;O)
https://blog.scooter-center.com/wp-content/uploads/30.jpg
567
850
Heiko Lepke
https://blog.scooter-center.com/wp-content/uploads/2016/04/Scooter-Cejnter-SC-Logo-2016.png
Heiko Lepke
2010-05-17 15:07:19
2021-10-07 09:53:42
Vespa & Lambretta Racing: 5th Challenge Scootentole in Mirecourt