EST 2020 in Jüterborg the European Scooter Trophy final
Race report on the final race of EST 2020 in Jüterbog
European Scooter Trophy: The scooter and pit bike scene was looking forward to the final race in Jüterbog with great excitement. Despite the short season caused by the corona, the tension was extremely high. In the big classes it was about everything and the championships had not yet been decided. And, as in the previous races, the response was enormous. Over 100 drivers registered for the race in Jüterbog. With that, EST has had a record season. The rookies class in particular was bursting at the seams again. And so we are already looking forward to 2021. More than 10 drivers want to get into Supersport and thus pave the way for the next generation of rookies. These will be great fights in 2021. But before that happens, the third race in Jüterbog had to be mastered.
Great finish after a difficult start due to Corona
We congratulate all participants and especially the winners on a great race event, many thanks to Andre and the EST team for the organization!
Update of the start of the EuropeanScooterTrophy 2020 season
Italian racing drivers are also enthusiastic
One of the special moments this weekend was the participation of 4 Italian drivers. The F&F motori team from Italy started with 4 drivers. Just madness. 1750km for a 1-day event. The guys are awesome and were duly welcomed and celebrated in the EST.
The corona concept developed by the Harz-Ring and Wittgenborn was also used again in Jüterbog and so we were all able to carry out our last run together despite the difficult environmental conditions. Jüterbog was the perfect location for the last race. A route length of 1,3km, a huge field of drivers and the existing runway for set-up runs made optimal conditions possible. Even the weather was on the EST side again, so the event could be run in dry conditions.
Photos ESC Racing Finale:
Here are the results of the individual classes:
Grade 7 - Beginner
We were able to inspire 7 drivers for the beginner class. Here, however, the championship was decided in advance, as Moosmann was the only championship driver.
The starting grid looked like this:
# 12 Jonathan Krahn 1: 23.277
# 290 Kevin Geissler 1: 23.352
# 22 Tobias Moosmann 1: 23.689
Moosmann was able to claim the start and drove Krahn and Münch away. Münch grabbed Krahn early and drove up to two. Krahn crossed the finish line in third place.
The picture from the first race was repeated in the second race. Krawitz and Geissler were able to keep up at the beginning, but then had to admit defeat to Krahn.
Final result K7 beginner
# 50 Tobias Moosmann 50 pts.
# 5 Collin Münch 40 pts.
# 12 Jonathan Krahn 32 pts.
The first master of the newly created beginner class was Tobias Moosmann with 100 points.
Class 1 - rookies
With a view to the championship, the most exciting duel between Just and Depta was. Just got faster and faster as the season progressed and put Depta and guest starter Thönnern under real pressure.
# 43 Philipp Thönissen 1: 10.352
# 1 Merlin Depta 1: 10.906
# 42 Bastian Just 1: 12.316
The rookies' first race was a real four-way battle. Thönennis in front. Was able to keep a little distance from Depta. Behind wheel to wheel Just and Johanshon. Triebs really wanted to get involved and grabbed Johanson first and then Just. Just persisted and didn't want Triebs to pull away. Meanwhile, Depta increased the number of strokes and hunted down Thönnern, who could not surrender to the pressure on lap 12. In the end, Depta crossed the finish line ahead of Thönnern, Just, Triebs and Johanshon.
In the second race, Thönissen failed to start. He did not get the performance tamed and was passed on in 4th place. Just benefited from this and moved up to first place. Depta followed him. Quebbemann on three was initially able to keep up, but then had to admit defeat to Thönnern and Triebs. Thönennis grabbed Depta and drove back to second place, with the aim of regaining the top spot. Thönennis crashed and was then unable to keep up with the speed until he was finally eliminated on lap 1 after an accident with Just. For Depta, the second race did not go optimally either. After falling from ninth place, he had to work his way up again. The laughing winner that day was Marcel Triebs. This remained accident-free and drove confidently to the top in the wild change of position. Johanshon was able to successfully finish the second race in second place ahead of the surprising third Schiller.
Final result K1 - Rookies by Scooter-Attack
# 313 Marcel Triebs 38 pts.
# 1 Merlin Depta 36 pts.
# 189 Mike Johanshon 31 pts.
Final result championship 2020 - K1 Rookies by Scooter-Attack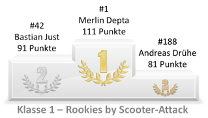 K2 SuperSport + K4 BigBore & Supramatic
The championship was all about everything. In particular, the duel between D'Alessandro and Schmitt created tension. But even Elli should still be on the list after his great performance in Wittgenborn. For the starting line-up, however, an unusual picture emerged at first. The Italian drivers with their scooters were dominant here. Carsten Schmitt came in fourth, just a thousandth of a second behind Bertini.
# 1111 Stefano Basile 1: 07.781
# 721 Filippo Boceda 1: 08.220
# 28 Michael Bertini 1: 08.388
Basile and Adonor got off to the best start. Basile kept the lead and Adorno moved up from 5th to 2nd. Behind it, Boceda. Schmitt landed in 5th place, but attacked again immediately and wanted to show that he would not give himself up to the Italian drivers without a fight. Schmitt attacked Boceda and was able to move up to 3rd place. Bertini and Boceda switched positions back and forth. In attack mode, D'Alessandro approached who drove up from 9th to 4th and also had the best chances in the direction of Schmitt. However, he wanted too much and had to push the scooter off the track after falling. Schmitt could not break away from Boceda. This regained 3rd place. Schmitt without D'Alessandro behind him was able to score important points for the championship. The finish line for K2 was: Boceda, Schmitt followed by Richter.
The finish line K4 was: Adorno, Basile followed by Bertini.
The second race started with even more aggressiveness. Adorno leads the way, Basile behind and Schmitt ready to attack. Basile was the first to grab Adorno and Schmitt was also able to take second place early on Adorno. Then it got hectic. Bertini suddenly got involved too. For Basile, however, it was over early after a part broke at full speed and fluid leaked and he then fell. Bodeca also fell. When both drivers got up again, Richter fell into the tire wall at the same point. Thank goodness nothing worse had happened. Richter could go on. The race was over for the Italians. The biggest beneficiary of the fall, however, was D'Alessandro, who briefly moved up to second place, but then had to admit defeat to Adorno and Schmitt.
The finish line K2 was: Schmitt, D'Alessandro followed by Hasemann.
The finish line K4 was: Bertini, Adorno followed by Zehe.
Final result K2 SuperSport
# 33 Carsten Schmitt 45 pts.
# 96 Philip Hasemann 29 pts.
# 98 René Richter 26 pts.
Final result K4 Supramativ / BigBore
# 7 Diego Ardorno 45 pts.
# 28 Michael Bertini 41 pts.
# 24 Henry Toe 29 pts.
Final result championship 2020 - K2 SuperSport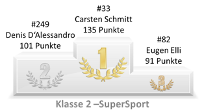 Final result championship 2020 - K4 Supramatic & BigBore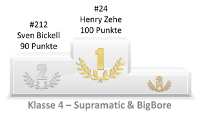 K5 PitBike-Pole + K6 GP-Open
The championships in both classes were as good as decided. Brzeski and Jorewitz clearly led. Nevertheless, the two drivers had to arrive first. And Reese showed early on that Brzeski cannot rest.
The starting grid:
# 101 Dennis Jorewitz 1: 09.663
# 122 Joe Schack 1: 10.673
# 469 Nils Brzeski 1: 12.564
The top duo showed their fabulous performance early on. Jorewitz raced away from the field and never let anything burn. An opponent has yet to be found here. Schack, who was slowed down significantly with additional weights, was still significantly faster than Brzeski. Brzeski, Reese and Förster fought great duels, which also repeatedly led to changes of position. In the end, Brzeski was ahead by a nose and asserted himself in third place.
The second race could have been copied for Jorewitz and Schack. Lonely top the two in your classes. However, Schack was taken out of the ranking because he drove without additional weights and therefore did not meet the minimum weight of 155kg according to the regulations. Förster was cashed in by Lang quite early. Reese was behind, got faster and faster and in the end relegated Brzeski to fourth place. As a result, he secured the win of the day.
Bottom line K5 pit bike stick
# 555 Jens Reese 45 pts.
# 469 Nils Brzeski 45 pts.
# 14 Cedric Förster 29 pts.
Final result K6 GP-Open
# 101 Dennis Jorewitz 50 pts.
# 70 Benjamin Lang 40 pts.
# 41 Adrian Bähr 32 pts.
Final result championship 2020 - K5 Pitbike-Stock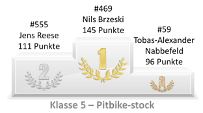 Final result championship 2020 - K6 GP-open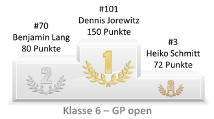 K3 expert
The duel of the day was called between Lukas and Schröder. Both opponents were separated by only 2 points and so it was time for both of them to attack early in order not to miss any important championship point.
The qualification for the race showed a clear winner. Andreas Lukas. The scooter went so from the front that Pohl could only look with a 1 second gap in second place. The dominance of performance at the top of the Expert class has seldom been so great. Schröder was clearly left behind here.
# 96 Andreas Lukas 1: 05.478
# 169 Yannik Ong 1: 06.357
# 3 Kevin Pohl 1: 06.808
Lukas was also able to win the first race at the start. As in training, the scooter went steeply. Pohl behind couldn't keep up and had to let Ong pass early. But then it should be too much of a good thing for Luke. He fell, was able to continue, but then had to park the scooter in the lane and look. This was an important preliminary decision in the championship. The first race would not have been Schröder's either. He was stuck behind Brüggeshemke for a long time and lost valuable time on the top. Schnell drove to 3rd place in the meantime after Hüser retired due to a fall at good speed. Ong at the top was able to keep Pohl sufficiently at a distance with 5 seconds and achieved a sovereign victory in front of Pohl and Schnelle.
For Schröder it was only a matter of arriving in the second race, then the championship would be his. Logically, Lukas had something against it. And so it was astonishing that both riders were characterized by crashes and did not fight for the lead at all. Ong says: "Thank you" and was able to take his second victory. As in the first race, Pohl was the laughing second and also drove his second podium place home. Third came M. Harder, who couldn't keep up at top speed. However, it was still able to benefit from the failures. So the championship aspirants carried out their title fight in the lower midfield. With 2th place, Lukas just kept his nose ahead of Schröder.
Final result K3 Expert by Scooter-Attack
# 169 Yannik Ong 50 pts.
# 3 Kevin Pohl 40 pts.
# 58 Marc Harder 26 pts.
Final result championship 2020 - K3 Expert by Scooter-Attack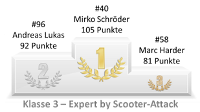 K8 1,5h endurance race + K9 Race of the Champion
The long-distance race was expanded to include a desired class of drivers at short notice. Many wanted to start again with their solo machines and so the Race of the Champion class for solo drivers was introduced at short notice. With 19 starts it was also very well filled at the Le Mans start. Ong, Lukas and Schmitt secured the top places in the qualification.
The team from Italy led the endurance race. The hot pursuer was the team around Andreas Lukas with M. Schröder as a passenger. Very early on, they attacked the Italians, who initially remained steadfast. Schmitt followed behind, who couldn't quite keep up with the speed. Due to the colorful mix of the field of drivers, battles for position were the order of the day and some of them soon lost track of their positions. Only a fall of Siemer from EMS Coast Tuners put an end to the hustle and bustle for a short time. This hit the barriers violently and barely missed the marshals. After a forced break of 15 minutes, the race could be continued again. Siemer was once again lucky in the misfortune and was able to do without a hospital stay.
The restart was the time of Luke. His team now finally set itself apart from the rest of the field. Things also went better for Schmitt after the restart. Shortly behind in 4th place, he was back in 2nd place. Bähr followed as a solo driver in front of the F + F motori team.
End result K8 long haul
# 96 Andreas Lukas 25 pts.
# 721 F + F motori 20 pts.
# 1 Merlin Depta 16 pts.
End result K9 long haul
# 33 Carsten Schmitt 25 pts.
# 73 Achim Bähr 20 pts.
# 35 PitBike Allstars 16 pts.
Get a taste of racing now and take part!
Have we sparked your interest in racing? Find out more here and join us: EST - EUROPEAN SCOOTER TROPHY
Here we also give you a glimpse behind the scenes, this is what a driver's meeting looks like in Corona times:
Driver briefing 3rd run Jüterbog 10.10.2020
https://blog.scooter-center.com/wp-content/uploads/2020/10/scooter-racing-est-finale-2020-16.jpg
800
1200
Heiko Lepke
https://blog.scooter-center.com/wp-content/uploads/2023/08/SC_BLOG-300x69.png
Heiko Lepke
2020-10-14 09:46:06
2020-10-14 09:46:06
EST 2020 in Jüterborg the European Scooter Trophy final