Repair floor plate + leg shield for Vespa Rally, Sprint, GT, GTR, Super, SS 180, GL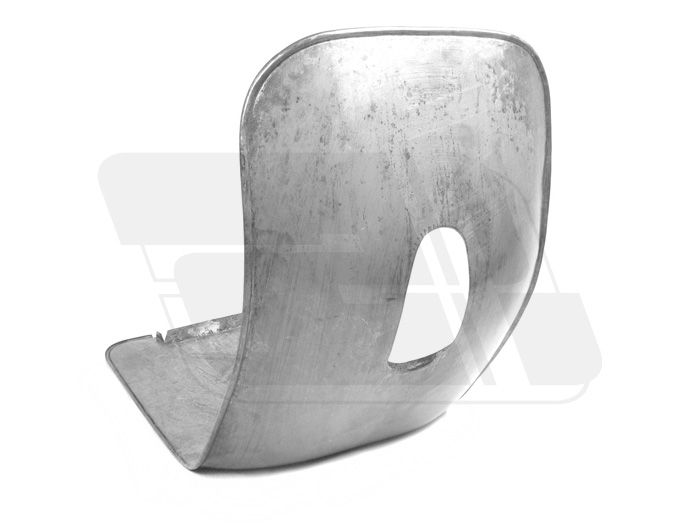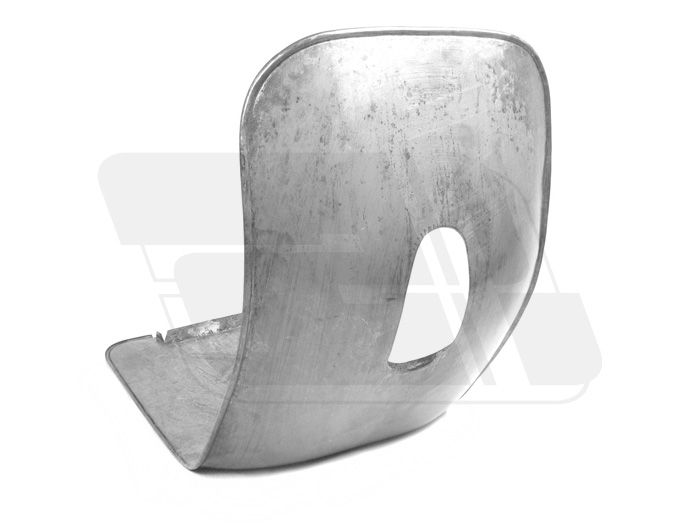 From now on we can finally offer repair sheets for the leg shield and the floor pan for the Vespa Rally / Sprint models, which are now quite expensive. Very often the frames of these models in the area behind the fender are severely affected by the brown plague. From the outside, the frame is mostly still intact, but the inside is as good as rusted through.
A doubled sheet metal inside keeps the moisture in place and slowly rots the frame.
This has already caused quite a few frames to be thrown away or cost a lot of working hours armed with tin snips and welding equipment, provided you have the skills to carry out such work yourself.
Now there is a fast, inexpensive and high-quality solution to restore the frame professionally to a perfect condition.
A complete leg shield including the associated base plate enables rapid restoration progress without having to learn the plumbing trade first. But the bodybuilder will not only be grateful, but also present a much smaller invoice as he can work in a considerably more time-saving manner.
The well-fitting sheets are 1: 1 according to the original, the upper part of the horn cascade is an exception. In the original, this is pressed into the leg shield plate, but the repair plate is smooth here. We therefore offer this part of the cascade separately, with the advantage that you can choose between two versions (hexagonal or rectangular logo). The lower part of the cascade is currently only available in the Italian version with the small horn opening.
In the original, a sheet metal is doubled in the middle of the tunnel in the inner radius of the transition from the floor panel to the leg shield in order to additionally strengthen the chassis. This should be done manually to make the restoration complete and perfect.
The leg shield is made of black sheet metal and is stored with us treated with anti-corrosion grease.
The following parts are useful or necessary:
Repair sheet
Horn / cascade -VESPA
Rally, sprint, GTR
Sprint Veloce, TS
Hexagonal Piaggio logo
Repair sheet
Horn / cascade -VESPA
Super, GT, GL,
SS 180
Hexagonal Piaggio logo
Frame strut VESPA
46cm floor pan
Rally, Sprint, TS, GT,
GTR, Super, SS 180, GL
VNA, VNB, VNA, VBB
Frame strut VESPA
43,5cm floor pan
Rally, Sprint, TS, GT,
GTR, Super, SS 180, GL
VNA, VNB, VNA, VBB
Frame strut set
-VESPA- floor plate
Sprint, rally,
TS, GT, GTR, Super, GL,
VNA, VNB, VBA, VBB
Frame tunnel VESPA
rear part, PX,
T5, rally, sprint, TS
Super, GL, SS180, GS160
VNB, VNA, VBB, VBA
Screw set
VESPA
Rally, Sprint, TS, GT,
GTR, GL, Super,
VNA, VNB, VBA, VBB
Side panel set
VESPA
Sprint, GT, GTR,
Super
Metal, pressed
https://blog.scooter-center.com/wp-content/uploads/beinschild_rally_rv.jpg
526
700
Uwe
https://blog.scooter-center.com/wp-content/uploads/2016/04/Scooter-Cejnter-SC-Logo-2016.png
Uwe
2012-01-18 15:43:14
2014-05-22 08:13:03
Repair floor plate + leg shield for Vespa Rally, Sprint, GT, GTR, Super, SS 180, GL