Scootertuning News June 2010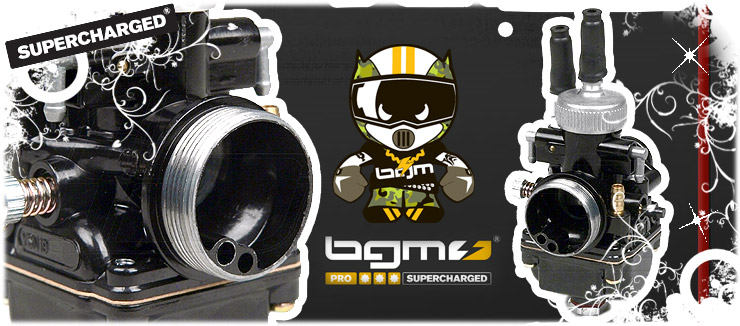 bgm carburetor tuning
- Carburetors, carburetor kits, nozzles, needles and spare parts -
"The bgm carburettors are great!" We hear that again and again and our tests on the test bench and on the racetrack prove that high-quality tuning does not have to be expensive. The BGM carburettors are available in many sizes. Of course, all spare and tuning parts such as nozzles or needle sets are also available.
The 17,5 carburettor from bgm are the entry into tuning and with just about 37,14 Euros are already the proud owner of a tuning carburetor.
So that the fun on the racetrack with your Sport cylinder can start, you usually need a suitable one intake, for this reason we offer cheap Carburetor sets To the 17,5 carburettor
Huge range of carburetors
Large selection of jet sets for all types of carburettors
Only a correctly tuned carburetor is fun, here you will find everything you need for it:
Carburetor revision
Carburetors are wearing parts, at least the individual sensitive components of your carburetor.
With our revision kits you can overhaul your carburetor yourself very cheaply and save yourself a new one.
Brake pump -BGM PRO -
- Radial piston Ø = 17mm -
Great brake pumps from bgm - the brake pumps are available with levers in silver and black.
Attention: The brake pumps are delivered individually, of course available for left and right.
Gilera Runner fairing set

- now NEW: in white -

Complete bgm Evolution fairing set for your Gilera Runner up to 2005.

With the new bgm Evolution fairing parts make the runner look much more adult. Sharp-edged beads and well-proportioned air scoops provide interesting light reflections and a super sporty note.

The quality, fit and workmanship of the fairing parts for your runner are at the highest level.

The trim set contains the following items:

Underbody paneling
Rear side panels BGM
Side panels in front
airscoops
Front fender
Kaskade
handlebar cover
Speedometer cover *

* The speedometer cover only fits from the Runner SP model series. Unfortunately, this cannot be installed on earlier runners. Due to the low set price, that shouldn't be a problem.

Parts of the bgm Evolution fairing set can be not combine with the original runner parts. All parts are also available individually.
Screw set

- for Aerox & Nitro -

We also have a super from dmp Fairing set for the Yamaha Aerox or the MBK Nitro in program.

For refinement, we now have the screw set in CHROME at the start!

bgm screw set click here
Through-flow cooler

- Always stay cool-

Effective and visual delicacy

With a tuned engine, the original cooling might no longer be sufficient. In order not to have to install another or larger cooler, which is time-consuming and expensive, we offer you this through-flow cooler.

The compact design allows you to accommodate the cooler in the fairing - but actually a shame with the cool design. If one through-flow cooler is not enough, you can of course mount more.
-MOTUL MoCOOL-

- Cool drink for your scooter-

The coolant additive concentrate -MOTUL MoCOOL- is also suitable for the through-flow cooler; it lowers the coolant temperature by up to 15 ° C - 500ml

MoCOOL is a coolant additive that increases the cooling water temperature by up to lowers to 15ºC. The concentrate is best mixed with distilled water for use (mixing ratio 20: 1 = 5%). Never use the undiluted additive as a coolant.

This additive offers better heat transfer than normal coolants. The unique formula also contains rust and corrosion inhibitors that protect the cooler water pump and hoses.

The main area of ​​application are high-performance motors that tend to overheat easily. Here the additive is diluted 20: 1 (5%) with water.

The use in races where the use of monoethylene glycol is not allowed is also interesting.

Developed for cooling systems that contain components made of aluminum, gray cast iron, copper, brass or bronze.

MoCOOL can of course also be mixed with antifreeze, including the new long-lasting versions.
-Higher Legislation-

- CPI, Keeway, Generic -

Suspension kit for CPI, Keeway, Generic.

We have lift kits available for almost all scooter models.

The chassis of your scooter can be adjusted with a lift kit improve significantly and particularly easily.

The scooter is raised at the rear. This gives you a much better steering behavior and a more favorable weight distribution - not to mention the sportier look!

Most "hijackers" are CNC machined from solid aluminum and anodized in color. All of them can be installed in a matter of minutes.

And finally ... Inexpensive, quick and very effective
https://blog.scooter-center.com/wp-content/uploads/2018/06/BGM-CARBS.jpg
326
740
Heiko Lepke
https://blog.scooter-center.com/wp-content/uploads/2016/04/Scooter-Cejnter-SC-Logo-2016.png
Heiko Lepke
2010-06-16 09:10:25
2018-06-12 12:16:47
Scootertuning News June 2010