Vespa cylinder MALOSSI 136 cc MK 2 Vespa PV125, ET3 125, PK125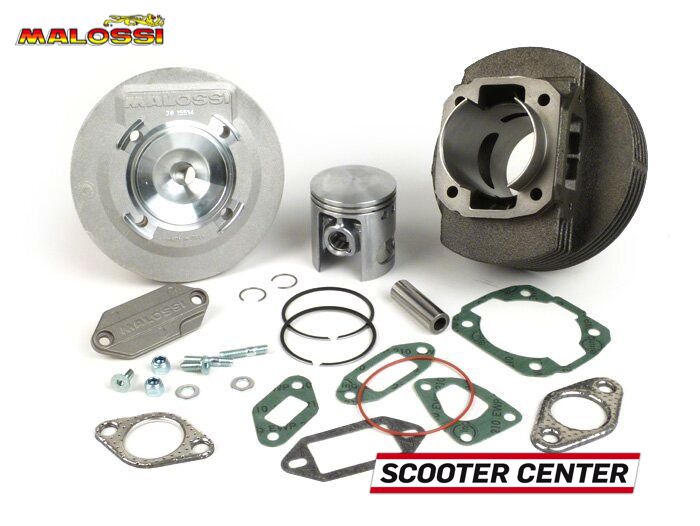 Vespa cylinder MALOSSI 136 cc MK 2 now available
Malossi has the channel design of the 136cc cylinder for the Vespa Smallframemodels (PV125, ET3, PK80-125) significantly revised and modernized. So the new cylinder bears Vespa cylinder MALOSSI 136 cc MK 2 entitled "MK 2"
The direct inlet is now significantly larger, the support channel (boost port) is divided into two parts and supplied directly via the inlet channel (the predecessor here only had three pockets milled into the track).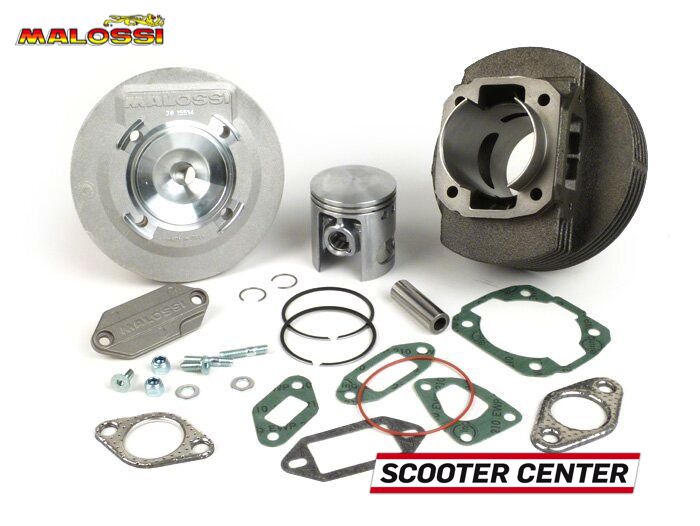 Direct suction or membrane
That's what stayed universal usability as either a direct suction device (via an optionally available suction nozzle with internal membrane) or, quite conventionally, via the standard rotary valve inlet control. If the cylinder is to be controlled via the direct inlet, the supplied sealing plate is used to close the rotary valve. The reed valve manifold is also newly developed and bigger, ie the old 136cc cylinders don't fit here anymore.
The direct inlet offers the possibility to achieve a high basic performance without having to rework the motor housing. The patented CVF2 system with permeable piston skirt enables good filling even in the upper speed range without the overcurrent areas in the motor necessarily having to be adjusted.
CONCLUSION:
The Vespa cylinder MALOSSI 136 cc MK 2 is a high quality and powerful Vespa Smallframe Cylinder in the gray cast iron class, which already offers very good performance out of the box. Can be ideally combined with PM40, VSP or "Franz" exhaust systems.
50 L (V5A1T)
50 N (V5A1T)
50 (V5A1T - 1963)
50 S (V5A1T - 1964)
50 Special (V5A2T)
50 Special Elestart (V5A3T)
50 Special (V5B1T)
50 Special Elestart (V5B2T)
50 Special (V5B3T)
50 Special Elestart (V5B4T)
50PK XL2 (V5N1T)
50 PK XL2 HP (V5N2T)
50 PK SS (V5S1T)
50PK XLS (V5S2T)
50 Sprinter (V5SS2T - 1975)
50 SR (V5SS2T - 1975-)
50 PK (V5X1T)
50 PK S (V5X2T)
50 PK S Luxury (V5X2T)
50 PK XL (V5X3T)
50 PK XL Rush (V5X4T)
50 PK N (V5X5T)
50PK XL2 (V5X3T)
80 PK S (V8X5T)
90 (V9A1T)
90 Super Sprint (V9SS1T)
125 Nuova (VMA1T)
125 Primavera (VMA2T)
125 ET3 (VMB1T)
125 PK ETS (VMS1T)
125 PKs (VMX1T)
125 PKS S (VMX5T)
https://blog.scooter-center.com/wp-content/uploads/1110001V2-Vespa-Zylinder-MALOSSI-136-ccm-MK-2.jpg
526
700
Heiko Lepke
https://blog.scooter-center.com/wp-content/uploads/2016/04/Scooter-Cejnter-SC-Logo-2016.png
Heiko Lepke
2014-02-13 12:56:25
2014-05-22 08:17:11
Vespa cylinder MALOSSI 136 cc MK 2 Vespa PV125, ET3 125, PK125