Vespa meeting in Isny ​​im Allgäu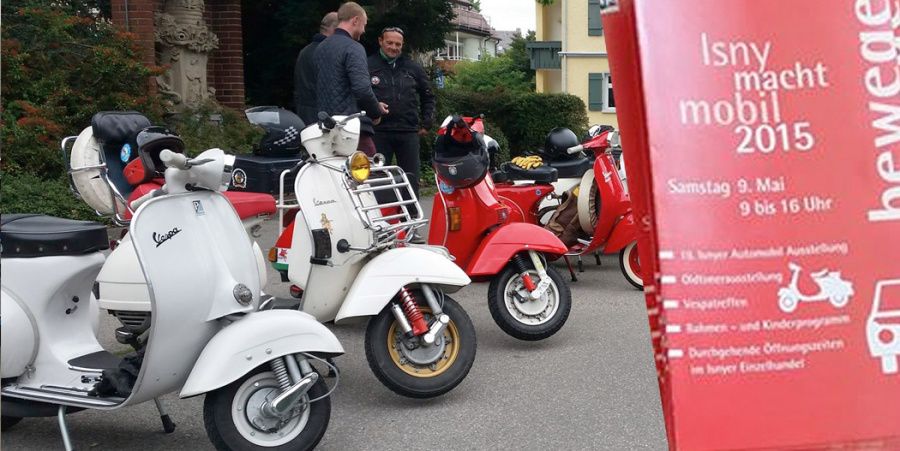 Vespa meeting of the Vespa Pirates Allgäu at the IAA Isny ​​automobile exhibition.
With a large Vespa Corso and raffle, powered by Scooter Center
Am May 09, 2015 automobiles are on display throughout the city, and Espantorstrasse becomes VESPAtorstrasse. Vespacorso also for 50 gerle around the city.
All Vespistis and visitors are WELCOME !!!
Program Sequence:
Vespa meeting Saturday 9 May 2015 in Isny ​​im Allgäu
(takes place in any weather)
Registration from 11 a.m.
Installation of the Vespas in Espantorstrasse
Vespacorso around the Städtle + photo shoot from 13 p.m.
small raffle at around 13pm including merchandise from Scooter Center to win
End from 16 p.m.
Ifnos about the event also on Facebook
Meals:
There is a coffee and cake for every registration.
The Pizza cart is available at the beginning of Vespatorstrasse and so the proper catering is also provided:
Pizza Giovanni
The following applies to the Vepacorso:
Those who take part in the tour do so at their own risk! There is also no liability for any technical failures. All participants should be in the corso considerate with sufficient Safety distance drive to the other participants. Overtaking within the corso is just as undesirable as any other dangerous feat. Pirates marked with safety vests will guard at the crossings. At the steeply sloping point, remember: hands off the front brake! We recommend the slower participants to sort themselves further up front in the corso, but tricycles, Ape and Co have to drive at the back.
Your scooter is not ready for the Corso yet?
You can buy Vespa parts quickly and cheaply at Scooter Center Vespa shop- also by UPS - Express - for only 6,90 Euro express shipping costs. (As of 05.2015)
Buy Vespa parts
How do I get there?
The approach should be chosen from the direction of Lindau and Leutkirch via the Espantor (Vespator).
Participants from the direction of Kempten are allowed to drive through the closed exhibitor area Kemptener Strasse to Vespatorstrasse.
Travel
https://blog.scooter-center.com/wp-content/uploads/2015/05/vespa-treffen-isny-allgaeu.jpg
451
900
Heiko Lepke
https://blog.scooter-center.com/wp-content/uploads/2016/04/Scooter-Cejnter-SC-Logo-2016.png
Heiko Lepke
2015-05-06 14:04:26
2015-05-07 06:56:19
Vespa meeting in Isny ​​im Allgäu