Distancing the Vespa gearbox - very easy - instructions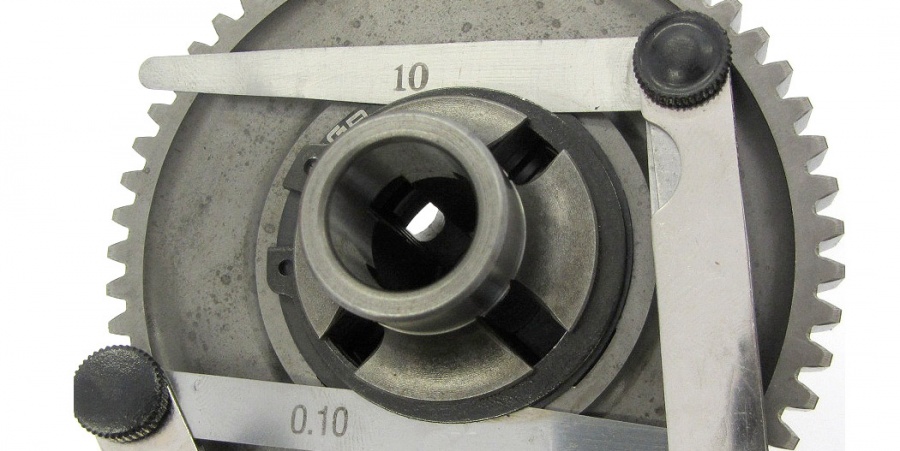 So you can easily disassociate your Vespa transmission
In order to adjust the play of the gear wheels on the main shaft, you need the corresponding Gear shims and for measuring the transmission, for example, this Feeler gauge in duplicate (2x) (!!)
It is best to start so that the gears will hold securely in the installed state and the transmission can be shifted cleanly into neutral in the first gear with a shoulder ring in the normal dimension 1,0mm.
If you start with too strong a shouldering under first gear, it could be that the gearshift cross is no longer free between the segments of the gear wheels and wants to thread into the gear wheels in neutral.
Therefore, it makes sense to first make the necessary compensation behind fourth gear to place.
Check gear play
You can now use the feeler gauges to check the play of the gear wheels.
The installation clearance should be in the area between 0,05mm and 0,15mm lie. In the case of gears that consist entirely of new parts, you can choose the game tighter, as all components are still getting used to each other.
Don't choose too little game
However, you shouldn't mean it too well and choose the game too narrow. In operation you achieve exactly the opposite. The hardened surfaces of the gear wheels and shoulder rings then tend to seize and so drastically increase the play within a short time.
If you are single Gear wheels If you want to swap from your gearbox, it is advisable to get one directly Set of shoulder rings to be ordered in the range 1,0mm to 1,3mm.
And if you're at it anyway, you also have a look at that Switch cross on. Don't skimp on Gear oil and use new things right away - and set the same new seals .
Good tool, suitable for your scooter, always makes work easier.
Gear spacer Vespa bgm PRO
bgm PRO shoulder rings
hardened and ground in parallel
Tolerance of only + 0 / -0.04mm
many strengths available
for clean shifting
and a durable transmission
https://blog.scooter-center.com/wp-content/uploads/2015/09/vespa-getriebe-distanzieren.jpg
451
900
Heiko Lepke
https://blog.scooter-center.com/wp-content/uploads/2016/04/Scooter-Cejnter-SC-Logo-2016.png
Heiko Lepke
2015-09-01 14:46:22
2015-09-16 07:24:42
Distancing the Vespa gearbox - very easy - instructions