Vespa sports seat bgm PRO Sport seat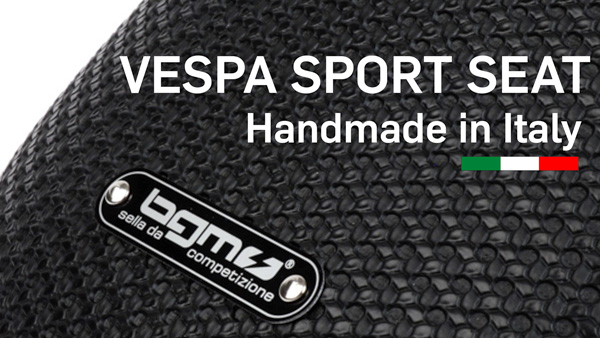 bgm PRO "Sport" sports bench made by Nisa Italy
We have one based on the very popular Nisa 'Sport 20' bench Sports bench Designed for the classic Vespas in bgm design and had the bench made by the Italian bench manufacturer NISA as a bgm version. The new bgm PRO sports seat is available for Vespa Largeframe and Vespa Smallframe and is available in two versions:
Sports bench with an authentic look
The BGM Pro Sport bench has a beautiful Alfatex cover (embossed waffle pattern) on the sides and back and is also available with gray piping. The seat is also provided with a smooth cover with parallel longitudinal seams. For a waterproof surface, these are embossed, not sewn.
The appearance of the BGM Pro Sport is strongly reminiscent of the classic seat humps of the 70s and conveys a cool race flair even when the vehicle is standing.
Vespa Sport seat bgm PRO Made in ITALY by NISA Vespa seat
Vespa seat configurator
You can also find the bench in the Scooter Center Bench configurator, take a look at the seat on your Vespa model:
Sports bench suitable for everyday use
In everyday practical use, it is very easy to drive despite its sporty look. The bench has a pleasantly dimensioned foam padding on which even long tours are fun. A nice feature is the completely padded hump. This offers a good grip when riding solo, but can also be used as a pillion seat if necessary.
Modern magnetic closure
Another intelligent feature is the bank's magnetic lock with an extremely powerful neodymium magnet. The bench can be opened easily with one hand, but still holds better than many classic hook fasteners. The greatest advantage of the magnet technology is that the bench rests on the mounting plate, which is supplied and is firmly screwed to the frame. The magnetic force is so high that the ignorant who try to open the bench, assume that the bench is locked.
Top quality - handmade in Italy
The bench frame is made of impact-resistant and durable ABS plastic. The cover is stapled all the way around and is therefore very securely and permanently attached (in contrast to pure gluing as is otherwise usual). The frame is provided with six rubber pads. So the load is distributed very well over the entire frame and the bench gives a very solid and full seating feeling. The bench hinge is typically very solid and solid and therefore very resilient. In addition, it is screwed and can be exchanged (in the highly unlikely event of a defect).
Available for Vespa Smallframe and Largeframe (Largeframe-Models with a high tank (GS160, SS180, Rally180 / 200 require the flat tank of the Sprint / PX models without an oil tank)
CONCLUSION: Nice flat bench with a great racing look but touring qualities!
Note for the LargeframeVersion and Vespa PX
For PX models only suitable for tank versions with a hinged lid.
Not suitable for Lusso models / vehicles with oil tank.
Order a seat:
https://blog.scooter-center.com/wp-content/uploads/2021/05/Vespa-Sport-Sitzbank-bgm-pro.jpg
338
600
Heiko Lepke
https://blog.scooter-center.com/wp-content/uploads/2023/08/SC_BLOG-300x69.png
Heiko Lepke
2021-05-10 09:23:28
2021-05-10 09:23:28
Vespa sports seat bgm PRO Sport seat