Maryzabel: Experience Classic Day 2019!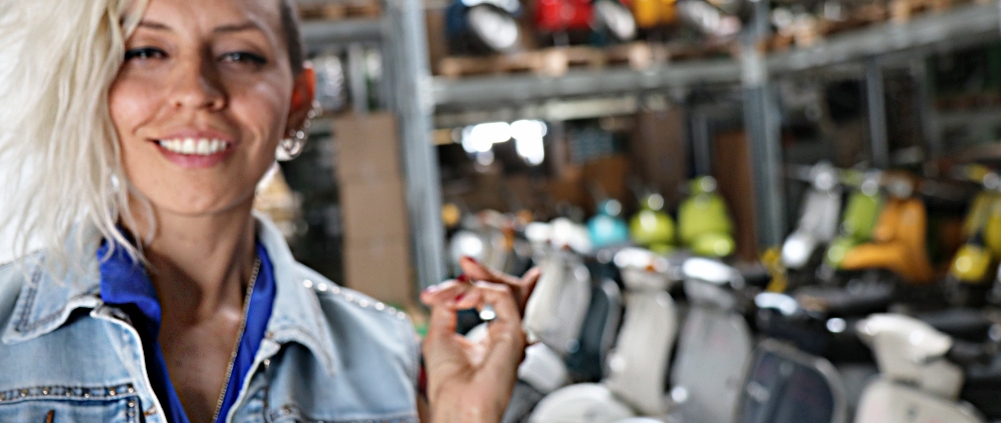 Hello, my name is Maryzabel!
I am a trainee at Scooter Center. I come from Colombia and take you on my big and small adventures in the blog, take a look behind the scenes with you Scooter Center and take you to scooter meetings.
5. Experience Classic Day 2019 up close
There has been a special atmosphere in the SC offices since the arrival of a complete container with Vespas from Japan!
Vespa Smallframe for sale
Everyone is preparing for the Scooter Center Classic Day 2019 before. A meeting that, by the way, will be very exciting for me, not only because I'm the first from our club, the den Scooter Center Attended OpenDay, but because it will be the only event of its kind that I have ever attended.
Usually the events that I have attended and even organized have the Vespa community as a common denominator. But on that next open day on Saturday August 31st, everything revolves around the scooter!
Of course, the scene cannot be missing:
the music,
das Essen
and the friends
I am especially looking forward to friends I will meet again and new scooterists I would like to meet.
We will have international visits from Belgium, Netherlands, Austria, Luxembourg and England. But it will also be the scooters that will grab my attention. I'm looking forward to the performance that's on Scooter Center Test bench is shown.
It's crazy what awaits me: scooter parts special sales, returns, B-goods. The used ones Smallframe Vespas from Japan in great condition. Lots of new products to touch and special offers. In addition, there are stands from manufacturers, organizers and partners and the private parts market for scooters and scooter parts, many of our customers and friends have cleaned out their garages and cellars and are selling at Scooter Center ClassicDay their best parts. The Vespa and Lambretta used market will be the perfect place to look for treasure!
I'm really excited because I have to get a new Vespa as a partner for my adventures. I will keep you up to date here, because this is just the beginning!
https://blog.scooter-center.com/wp-content/uploads/2019/08/Container-de-Vespas.jpg
638
1001
Heiko Lepke
https://blog.scooter-center.com/wp-content/uploads/2016/04/Scooter-Cejnter-SC-Logo-2016.png
Heiko Lepke
2019-08-24 09:23:06
2019-08-30 09:47:12
Maryzabel: Experience Classic Day 2019!